OAG Opening Gala & Preview | Gala d'ouverture de la GAO et avant-première
Description
Join us to unveil the new Ottawa Art Gallery and its inaugural exhibition
Àdisòkàmagan
Nous connaître un peu nous-mêmes
We'll all become stories
Presented by Simons

The preview includes:
Sponsored by Stikeman Elliot
The Preview Reception is an exclusive opportunity to celebrate the opening of the new OAG and the inaugural exhibition. This special ticket gives you first access to the new building in an intimate reception with artists as well as community and business leaders.
Tax receipt for $150
For more information on the Opening Gala please visit our website here.
The start of an entire weekend of celebrations
The Gala is the first event in a special weekend of activities to celebrate the launch of the gallery and its inaugural exhibition. Bring the whole family to enjoy special workshops, tours and performances!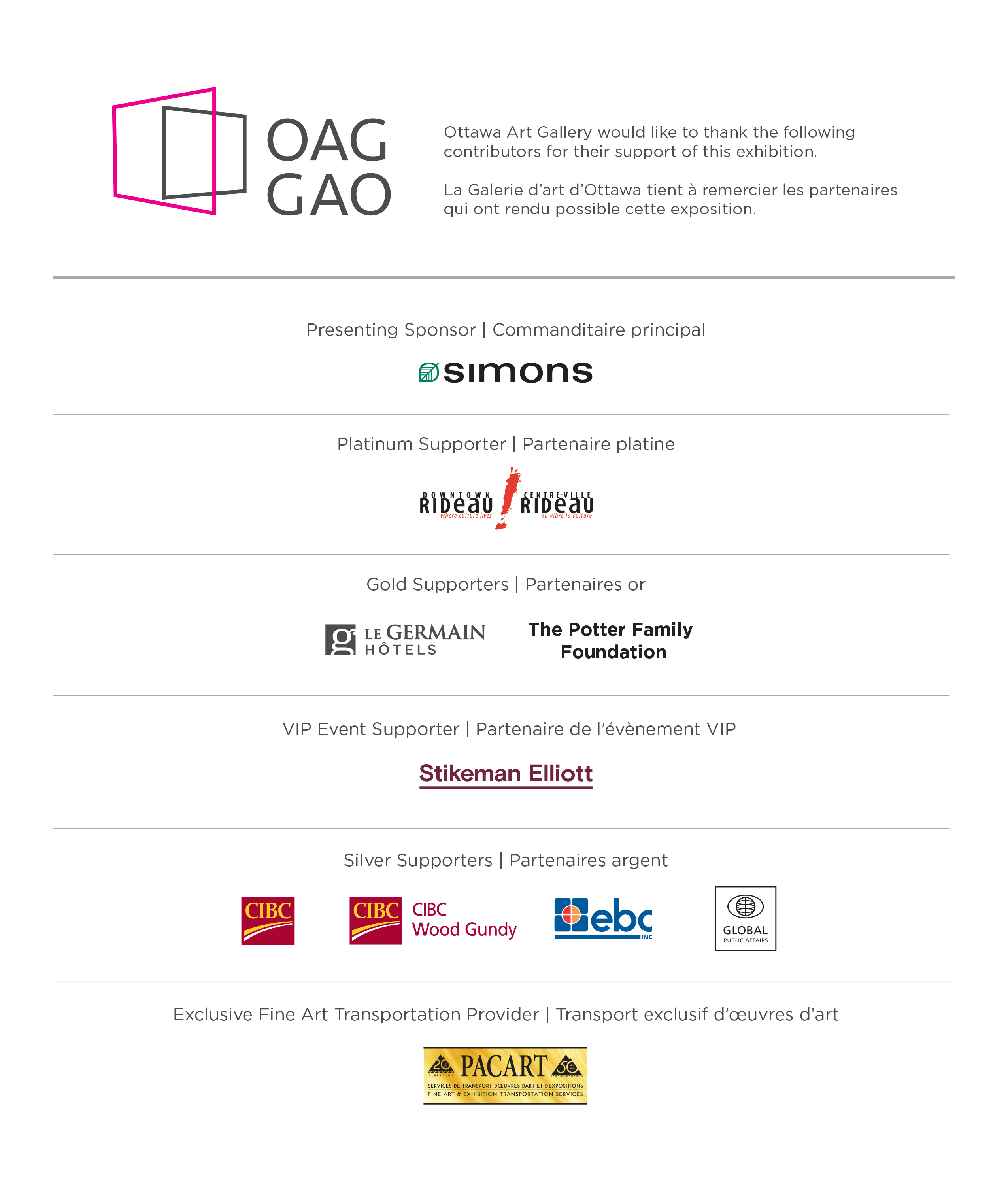 Soyez des nôtres pour le dévoilement de la nouvelle Galerie d'art d'Ottawa et de son exposition inaugurale.
Àdisòkàmagan
Nous connaître un peu nous-mêmes
We'll all become stories
Présenté par Simons

L'avant-première comprend :

Commanditée par Stikeman Elliot
L'accès aux cérémonies d'ouvertures, au nouvel édifice de la GAO et à l'exposition inaugurale;

Des danseurs, des musiciens et des artistes de performance en direct. Les détails des prestations artistiques de la soirée seront bientôt affichés sur le site Web de la GAO;

Des créations culinaires et des boissons proposées par des chefs de la région;

L'occasion de rencontrer des invités spéciaux, incluant les artistes de l'exposition inaugurale.
Pour plus d'information au sujet du Gala, rendez-vous sur notre site Web ici.

Le début d'une fin de semaine remplie de célébrations.

Le Gala inaugure une fin de semaine remplie d'activités pour célébrer l'ouverture de la Galerie et de son exposition décisive. Le samedi 28 juillet 2018, rendez-vous à la GAO avec toute la famille et participez à des ateliers spéciaux, des visites guidées et des performances.