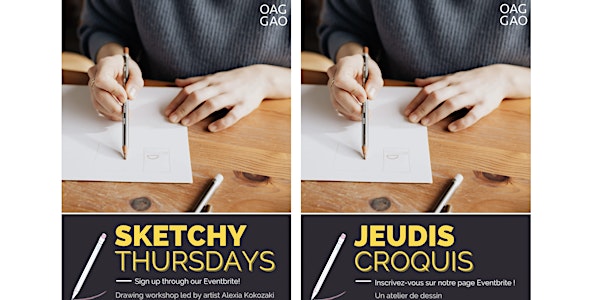 OAG's Virtual Sketchy Thursdays / Jeudis croquis, présentés par la GAO
Sketchy Thursdays with artist Alexia-Leana Kokozaki / Jeudis croquis avec l'artiste Alexia-Leana Kokozaki
About this event
Thursday, June 30, 2022 - 6:30pm to 7:30pm (Eastern Standard Time)
Join us online to learn observational sketching techniques from an educator at the Ottawa Art Gallery.
On June 30, we will draw aerial landscapes filled with rhythmic patterns. This exercise is inspired by the works of Robert Kautuk and Leslie Reid in the exhibition Dark Ice, currently on view at the OAG.
The workshop will be lead by OAG Learning and Engagement Assistant Alexia-Leana Kokozaki, a Canadian-Cypriot artist based in the Ottawa-Gatineau region.
________________________________________________________________________________________
Jeudi 30 juin 2022 - de 18 h 30 à 19 h 30 (heure normale de l'Est)
Soyez des nôtres virtuellement, le dernier jeudi du mois, pour apprendre des techniques de dessin d'observation en compagnie de guides-interprètes de la Galerie d'art d'Ottawa.
Le 30 juin, nous dessinerons des paysages aériens remplis de motifs rythmés. Cet exercice s'inspire des œuvres de Robert Kautuk et Leslie Reid dans l'exposition Glaces obscures présentée à la GAO.
L'atelier sera animé par Alexia-Leana Kokozaki, aide, éducation et engagement du public à la GAO et artiste canadienne chypriote de la région d'Ottawa-Gatineau.