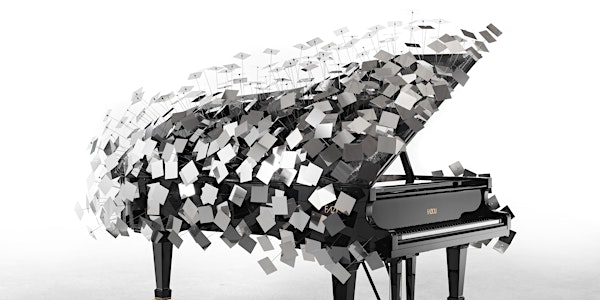 Oakridge Park International Piano Competition
Watch 20 pianists from all over the world compete in the inaugural Oakridge Park International piano competition.
Date and time
Sat, Sep 18, 2021 10:00 AM - 7:00 PM PDT
Location
Fairmont Pacific Rim 1038 Canada Place Vancouver, BC V6C 0B9 Canada
About this event
World renowned jurors Ken Hsieh, Patrick May and Noel McRobbie will observe the top junior and senior talent from around the world and award the "Grand Musical Architect" award to the winner of the competition. Additional awards include best contemporary piece, best classical piece, best baroque performance, and an award from the Vancouver Chopin Society.
Pianists will be performing in the lobby of Shaw Tower and in Fairmont Pacific Rim Lobby Lounge.
To see more pianists take to the keys, join us on September 19th from 3:00pm to 4:30pm to see the awards ceremony and additional concert.
Please note by reserving this ticket you agree to all Covid-19 safety precautions in addition to the Proof of Vaccination Plan implemented by Westbank
Prize amounts:
Grand Prix $2500
Senior group winner $1500
Junior group winner $1000
The Vancouver Chopin Society award for best performance of a work by Chopin $150
SCHEDULE:
Saturday 18, 2021
10:00 AM junior group performance
2:30 PM senior group performance
Sunday September 19 , 2021
3:00-4:30PM Concert and Awards Ceremony - concert of the winners of the younger group.
Jury
Ken Hsieh
A Charming, Passionate and Compelling presence on the podium, Award Winning Conductor Kenneth Hsieh, has gained widespread attention for his vibrant performances, making him one of the most exciting and versatile young conductors on the international stage today. The 2020-2021 season marks his 18th year as Music Director of the Vancouver Metropolitan Orchestra in addition to his many international guest conducting engagements. This season highlights include: Ken returning multiple times to Chengdu, China to open the 2020-2021 season opening concert as well as several subscription concerts with the Sichuan Philharmonic Orchestra, additional appearances with the Tokyo Ballet through Le Cosaire, Tokyo New City Orchestra, Kansai Philharmonic Orchestra, Suzhou Symphony Orchestra, Ningbo Symphony Orchestra, GuanXi Symphony Orchestra, and Nippon Century Orchestra in Osaka. In recent years he has made his debuts with Boston Ballet, Edmonton Symphony Orchestra, Shanghai Philharmonic Orchestra, Sendai Philharmonic Orchestra, only to name a few. In his tenth year, he continues his regular summer performances with the Toronto Festival Orchestra at HarbourFront Center.
In addition to conducting many of Canada`s orchestras in Montreal, Toronto, Hamilton, Edmonton, Regina, Saskatoon, London, Vancouver, and Victoria; Ken has been a guest conductor with international orchestras including Boston Ballet, l'orchestre Lamroureux, Tokyo Ballet (NBS), Tokyo Symphony Orchestra, Hiroshima Symphony Orchestra, Kyoto Symphony Orchestra, New Japan Philharmonic Orchestra, Sendai Philharmonic Orchestra, Orchestra Ensemble Kanazawa, Vancouver Opera Orchestra, Victoria Symphony Orchestra, Osaka Century Orchestra, Finnish Radio Symphony Orchestra, Gunma Symphony Orchestra, Suzhou Symphony Orchestra, Shanghai Philharmonic, Sichuan Philharmonic, Hyogo Performing Arts Centre Orchestra, CBC Radio Orchestra, National Arts Centre Orchestra, National Taiwan Symphony Orchestra, Orchestra London, Siena Wind Orchestra, Evergreen Symphony Orchestra, and has made two recordings with the Orchestra Ensemble Kanazawa on Avex Label. He has toured with the Kyushu Symphony Orchestra, and the Siena Wind Orchestra on several occasions.
He has collaborated with a wide range of distinguished artists from: Cyprien Katsaris, Janina Fialkowska, Ryu Goto to Holly Cole, Natalie McMaster, and John Pizzarelli. Several of his concerts have been recorded live and broadcasted on CBC Radio across Canada. His concerts have also been broadcasted on television in Taiwan, Japan, Canada, and the USA. Ken made his European France debut with the historical l'orchestre Lamoureux, performing at their subscription concert at the Theatre Champs-Elysee in Paris, France.
Among other honours and recognitions, he has been awarded the Order of Merit for Outstanding Young Leaders from the Lions Club, Named Top 100 most influential Asian-Canadians by Vancouver Sun, Top 10 Most Beautiful People by TV Weeks Magazine (which included Michael Buble), as well as most recently Top 33 most influential leaders by Sing Tao News and most recently Top 10 Elite Chinese-Canadians. Ken also serves as the 2019 Co-Chair of the Liver Foundation of Canada Gala.
Patrick May
Patrick May received his musical training at the University of British Columbia's School of Music, studying piano with Henri-Paul Sicsic, chamber music with Terrance Dawson and Lee Kum Sing, and collaborative piano with Rena Sharon. Following graduation he studied intensively with Henri-Paul Sicsic for an additional ten years.
In addition to maintaining a busy teaching career, Patrick is also president of The Vancouver Chopin Society, presenting outstanding piano recitals by international artists to Vancouver audiences and currently celebrating the beginning of its 24th season.
Patrick is an avid reader of musicology, history, theology and murder mysteries, as well as a passionate travel photographer.
Noel McRobbie
Born in Winnipeg, Canada, pianist Noel McRobbie first received national attention after receiving top prize at the Eckhardt-Grammatté Piano Competition. In addition, he has received prizes at the CBC Début Concert Artist Series, Grand Konzerteum International Piano Competition, Seiler International Piano Competition, and the University of Michigan Concerto Competition.
Noel's solo performances include the Steinway Series at the University of South Florida, Vancouver Chopin Society, Eastport Arts Centre in Maine, Franz Liszt Academy in Budapest, Seoul Arts Centre, and the Asian Composers League at Sejong Chamber Hall. As concerto soloist, he has performed with the Winnipeg Symphony Orchestra, Bulgarian Chamber Orchestra, Jeonju Philharmonic Orchestra, Westcoast Symphony, University of Michigan Philharmonia, Dongduk Women's University Symphony Orchestra and the New Westminster Symphony. Recent performances include the Victoria Conservatory of Music Summer Piano Academy, Turning Point Ensemble, and Canadian Music Centre Concert Unaccompanied Series. His performances have been broadcast on CBC radio, and he was featured in International Piano magazine and KBS television's Classic Odyssey.
For many years, Noel was a student of Lee Kum-Sing at the Vancouver Academy of Music and the University of British Columbia, where he received an Artist Diploma and Bachelor of Music respectively. Other teachers include Arthur Greene, Patricia Zander, and Svetozar Ivanov. He received a Doctorate of Musical Arts in Piano Pedagogy and Performance from the University of Michigan, and a Master of Music from the New England Conservatory. Previously Noel was Assistant Professor of Piano at Dongduk Women's University in Seoul, South Korea, and faculty member at the Summer Music Festival for the Franz Liszt Academy in Budapest. Currently he teaches at the Vancouver Academy of Music, where he is on the college faculty, and Place des Arts.
Rules and Regulations
Registration: Any Applicant who meets the Eligibility Requirements can register for Westbank International Piano Competition. No registration fee applies.
Deadline for registration is September 5th, 2021.
Junior Group - one or more pieces of your choice. Duration of the performance: 7 - 10 minutes
Senior Group - two or more pieces of your choice. Duration of the performance: 14 - 17 minutes
Video performance may be recorded on any device, including a smartphone. Professional recordings are not required as judges will assess the merit of the performance, not the data quality of the submitted video.
Camera must remain at a steady angle throughout the performance with the hands visible on the keyboard. Please record horizontally (not not vertically). NO special effects are permitted.
Each performance must be presented in one continuous take. No editing is allowed.
1) The competition is open to students from all type of music schools.
2) The competition is divided into two age groups:
younger pianists 11-17, born on or after January 1, 2004
older pianists 17-26, born on or after January 1, 1995
3) The competition program must be performed from memory.
4) The participants' performance will be judged by a jury chaired by Patrick May, chairman of the Vancouver Chopin Society, pianist Noel McRobbie and conductor Ken Hsieh.
5) The organizer reserves the right to change the competition schedule, the formation of the jury and the location of the competition.
6) Members of the jury may not enter their own students for the competition.
7) The scoring of all participants will be public.
8) The jury reserves the right to select the most interesting artistic personality of the competition awarding him or her with the honorary title "Great Music Architect at Oakridge".
9) The jury's decisions are final.
10) There is a limit of places in both categories. The order in which applications are sent will determine the possibility of participation in the OAKRIDGE PIANO COMPETITION
11) Applications along with repertory, short biography of the participant and portrait photo shall be sent to: carlpetersson@icloud.com
12) All costs related to travel, accommodation and meals are covered by the participants.
13) Laureates will receive monetary awards
About the organizer
QUADREAL
QuadReal Property Group is a global real estate investment, operating and development company headquartered in Vancouver, British Columbia. Its assets under management total $61.2 billion. From its foundation in Canada as a full-service real estate operating company, QuadReal has evolved its capabilities to invest in public and private debt and equity markets. QuadReal invests directly, via programmatic partnerships and through operating companies in which it holds an ownership interest.
QuadReal seeks to deliver strong investment returns while creating sustainable environments that bring value to the people and communities it serves. Now and for generations to come.
QuadReal: Excellence lives here.
For more information, please visit our website at www.quadreal.com.For more information, please visit our website at www.quadreal.com.
WESTBANK
The core of Westbank's mission is to create a body of work with a high degree of artistry that helps foster more equitable and beautiful cities. Westbank is active across Canada and in the United States, with projects including residential, hotels, retail, office, rental, district energy, affordable housing and public art. Established in 1992, we are one of North America's leading developers, with offices in Vancouver, Toronto, Seattle, Shanghai, Beijing, Taiwan, Tokyo, Hong Kong, Shenzhen and Chengdu, and over 25 billion dollars of projects completed or under development. Westbank is driven by the belief that beauty and culture in all forms and in the broadest definitions, are essential to human existence. In committing our efforts fully towards the fight for beauty and the creation of culture, we have evolved beyond the definition of a traditional real estate development firm, to become a culture company. Visit www.westbankcorp.com for more information.