Description
Welcome to Oakville Mom2Mom Biz -- NET(WORK)SHOP #3!
Oakville Mom2Mom Biz is a Facebook based online platform for moms/female entrepreneurs in Oakville and Greater Toronto Area (GTA) who love to connect with other biz moms. We connect online every day and meet face-to-face during our NET(WORK)SHOPs. If you are not an entrepreneur yet, but looking for ideas, inspiration and learning opportunities, you are welcome to join us too! Here is the link to OM2MB Community:
https://www.facebook.com/groups/1573287406317823/
NET(WORK)SHOP events are gatherings, that give moms the chance to connect with members of the community, learn interactively from business experts, build both personal and professional connections, swap start-up stories, give and receive referrals within the fast growing network of mom/female bizzers.
Event schedule:
10:00 am - 11:00 am : Interactive Workshop
11:00 am - 12:00 pm : Networking & Shopping
Coffee and light snacks will be provided.
Free parking is available in front of the venue (SW corner of Ford Dr. & Cornwall Rd.)
---
WORKSHOP
Have you tried dieting tens if not hundreds of times? Shock diets, fasting, curb the carbs, count the calories? Along the process did you feel frustrated, tired of the complicated recipes, long shopping lists, spending a considerable amount for your groceries? Do you want to establish healthy eating habits not in a cookie cutter way, but in a way that will fit your own lifestyle? Then this workshop is for you. Be equipped before the Holidays and start eating healthy in 2018!
Our speaker Maria Clara Perez – a professional executive chef – will discuss the importance of "mindset" as the core of healthy eating habits. She will guide you from the point where you are right now in terms of eating habits to where you want to be. Understanding healthy eating will give you the tools to make the right food choices. Maria will also share practical tips for meal planning and cooking, healthier food options and eating well when eating out.
---
About Maria Clara Perez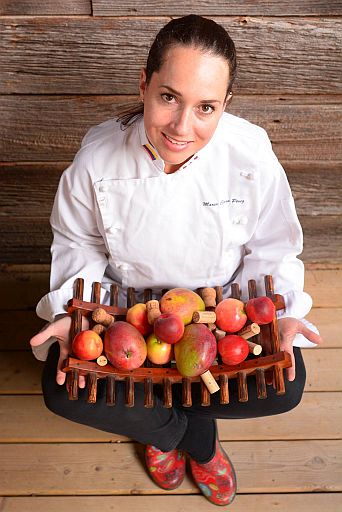 Maria Clara Perez is a Professional Executive Chef, Pastry Chef, Entrepreneur, and an outgoing achiever. She is a well-traveled foodie with an impeccable cooking technique! Maria has over 10 years of food industry experience. She was part of Cafe M (Cooking show, Vancouver BC), has been featured in magazines, worked at different restaurants from fine dining to bistro style and has been involved in menu development. Maria dedicated her career to teach and host top class culinary events and cooking classes in the GTA. She is an advocate of healthy eating, and devoted her experience to coach people to accomplish better eating habits and to reinvent their lifestyles.
---