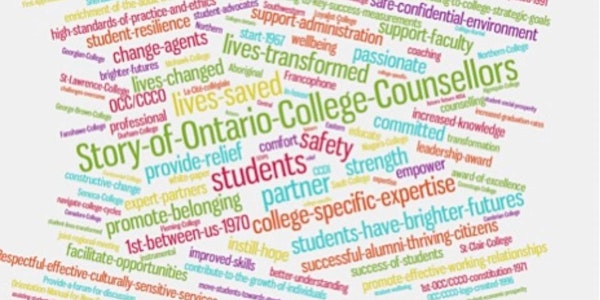 OCC Joint Regional Meeting
When and where
Location
Colleges Ontario 20 Bay Street, Suite 1600 Toronto, ON Canada
Description
OCC Joint Regional Meeting


Monday December 3rd


at
Colleges Ontario - 20 Bay Street, Suite 1600
The Joint Regional Meeting is a wonderful opportunity to meet other counsellors, learn more about the OCC community and gain knowledge from an amazing Professional Development Workshop.
This year we are very excited to have Jamie Warren and Laraine Hale facilitate a PD on
Adjusting Our Cultural Lens: Practicing Indigenous Cultural Safety
(Elder Elaine Berwald - White Northern Lights Woman, Aniishnaabe, Mi'Kmaq, Métis)
Workshop Description
This workshop aims to support counsellors to increase their individual self-awareness for the purposes of creating culturally safe spaces for First Nations, Métis, & Inuit post-secondary students. Facilitators will introduce basic concepts of cultural safety and take a trauma-informed approach to highlighting the ongoing impacts of historical and contemporary colonization on Turtle Island (North America). Embedded with Indigenous ways of knowing, participants will be encouraged to reflect on their roles and responsibilities as healthcare professionals and as Canadians in the reconciliation process.


Jamie Warren, M.Ed., RP, CCC
Indigenous Student Counsellor, Niagara College
Originally from Northeastern Ontario, Jamie is a proud Mushkegowuk Cree and uses her traditional teachings to inform her clinical practice as a counsellor, psychotherapist, and Indigenous mental health advocate. She currently works with Indigenous post-secondary students and is an active member within her profession. She serves as the National Indigenous Director on the Canadian Counselling and Psychotherapy Association's Board of Directors as well as a former President of the Indigenous Circle Chapter. She is also the Indigenous Representative on the Ontario College Counsellors Executive Committee.
Elaine Berwald (White Northern Lights Woman, Anishinaabe, Mi'Kmaq, Métis)
Elaine Berwald is an Indigenous Cultural Liaison, Knowledge Keeper, Grandmother and Indigenous Child Welfare Consultant. She incorporates the Mi'kmaq teaching of Etuaptmumk (Two-Eyed Seeing) in her continued work as an advocate in Indigenous child well-being and Indigenous education. Elaine is also a public speaker and facilitator. Elaine's Traditional Lands are Eel River Bar, Northern New Brunswick and Selkirk Establishment, Red River Manitoba. She is Mi'kmaq & Métis. Elaine is a 60's Scoop adoptee.


OCC JRM Agenda
9:00 – 9:30 Registration (Coffee & Tea)
9:30 – 10:30 OCC-CCCO Business Meeting
10:30 – 1.00 Training (2.5 hour with 15 minute break)
1:00 - 1.30 – Lunch (Lunch is included)
1:30 – 4:00 Training (2.5 hrs training with 15 minute break)