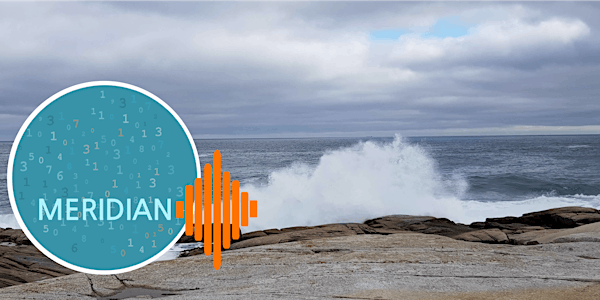 Ocean Data Management Initiatives and Infrastructure Webinar 6
MERIDIAN Presents 'Atlantic Canada Ocean Data Management Initiatives and Infrastructures' Webinar 6
Date and time
Thu, Sep 17, 2020 9:00 AM - 11:30 AM PDT
About this event
You are invited to join us for a workshop series regarding data management and data management infrastructure, hosted by MERIDIAN. Each session will focus on different aspects of data management, so you are welcome to only attend those which interest you the most. Space is limited, so please register early to ensure your attendance!
Webinar 6: Join Kim Mortimer, one of MERIDIAN's data managers, as they discuss and demonstrate how to describe your data and introduce you to the basics of metadata. This will include an introduction to metadata, some discussion on how to understand metadata and the structures which define metadata, an overview of Dublin Core, and an ongoing hands-on session where you will be invited to describe a data set of your own in a small group with other participants. This session should be especially useful to participants who are currently interested in describing and sharing a data set of their own soon.
The attendance limit for this session will be 20 people. The session will be approximately 2.5 hours in duration. Please anticipate being in assigned groups of 3 – 4 people. If you have a modest public data set you wish to describe, you are invited to share it with the organizer in advance, so they can prepare specific suggestions for the workshop and share it with other members of your assigned group.
You will receive a file in advance of the workshop for participation in the session.
This is the second event in this four part workshop series.
Schedule:
Webinar 5: September 15, 2020 – Lecture series and panel
Webinar 6: September 17, 2020 – Describing your data
Webinar 7: September 22, 2020 – Writing a data management plan