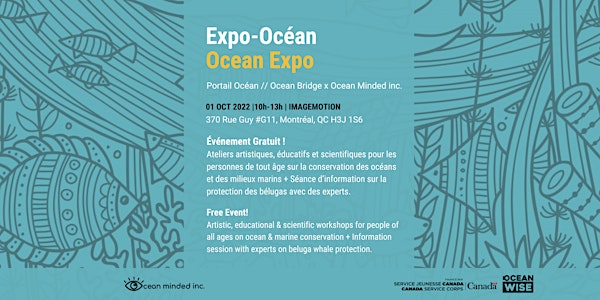 Ocean Expo / Expo-Océan
Rapprocher les gens de nos océans par la science et les arts // Connecting people to our oceans through science & art
When and where
Location
IMAGEMOTION 370 Rue Guy G11 Montréal, QC H3J 1S6 Canada
About this event
FR
Événement gratuit ! En collaboration avec Ocean Minded Inc. (https://oceanminded.ca/), Ocean Wise Portail Océan vous invite à notre Expo-Océan !
Ateliers artistiques, éducatifs et scientifiques pour les personnes de tout âge sur la conservation des océans et des milieux marins + Séance d'information sur la protection des bélugas avec des experts !
POUR TOUS LES ÂGES !
Quelques activités amusantes pour toute la famille sont prévues :
Activité participative : les menaces qui pèsent sur l'océan et les solutions potentielles correspondantes.
Expert en béluga : séance de discussion et activité
Bricolage + Jeu : construire et colorier un cube océanique
Colorer l'océan
Peindre l'océan, un écosystème à la fois : pourquoi aimez-vous l'océan/les voies navigables ?
Jeu : Course de méduses !
Jeu : dessinons ensemble !
EN
Free event! In collaboration with Ocean Minded Inc. (https://oceanminded.ca/), Ocean Wise Ocean Bridge (bridge.ocean.org) invites you to our Ocean Expo!
Artistic, educational & scientific workshops for people of all ages on ocean & marine conservation + Information session on beluga whale protection with experts!
A few fun activities we will have for the whole family include:
Participative activity: threats facing the ocean and matching potential solutions
Beluga whale expert: talk session and activity
Craft + Game: build and color an ocean cube
Colouring the ocean
Painting the ocean, one ecosystem at a time: why do you love the ocean/waterways?
Game: jellyfish racing!
Game: let's draw together!
FOR ALL AGES!