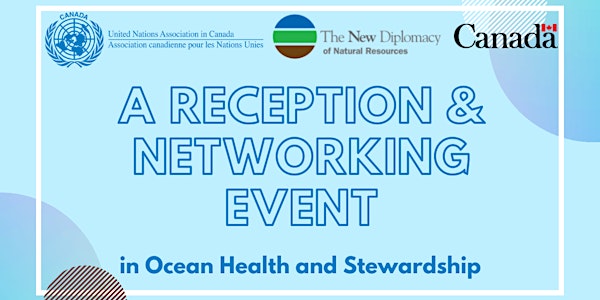 Ocean Health and Stewardship - Reception and Networking Event
Come network with other #oceans people! Let's talk Ocean Health and Stewardship, join us for a reception and speed-networking event.
About this event
Are you interested in oceans, ocean health and stewardship?
Do you want to build your professional network with peers and professionals from across Canada?
The New Diplomacy of Natural Resources team at UNA-Canada is thrilled to organise, for the first time, a reception and networking event for Canadian youth passionate about our oceans. Come to learn about our programme's achievements on getting youth perspectives on the state of our oceans, but also to expand your professional network and connect with peers!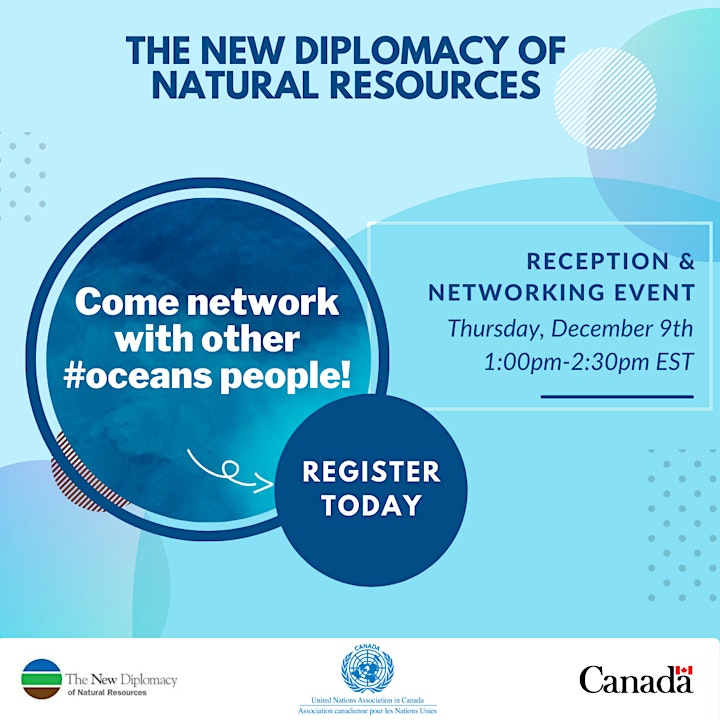 What is the New Diplomacy of Natural Resources (NewDips) programme?
When it comes to the natural resource sector, Canada needs to create new conversation. A conversation that is collaborative in nature, inclusive of all Canadians and founded in the belief that the future of natural resource development depends on simultaneously promoting economic growth, protecting the environment, and providing support for a secure and positive quality of life for Indigenous peoples and all Canadians.
UNA-Canada and our partners offer The New Diplomacy of Natural Resources as an important contribution to this much-needed conversation. The programme draws upon UNA-Canada's historic convening power and an empathy- based learning model as instruments of effective consultation, collaboration, and diplomacy in responsible resource development.
Vous vous intéressez aux océans, à la santé et à la gestion des océans ?
Vous souhaitez bâtir votre réseau professionnel avec vos pairs et des professionnel.les des quatre coins du Canada ?
L'équipe de la Nouvelle diplomatie des ressources naturelles de l'ACNU est ravie d'organiser, pour la première fois, une réception et un événement de réseautage pour les jeunes Canadien.nes passionné.es par nos océans. Venez découvrir les accomplissements de notre programme pour obtenir le point de vue des jeunes sur l'état de nos océans, mais aussi pour élargir votre réseau professionnel et rencontrer vos pairs !
Qu'est-ce que le programme de la Nouvelle Diplomatie des Ressources Naturelles (NewDips) ?
Lorsqu'il s'agit du secteur des ressources naturelles, le Canada doit créer une nouvelle conversation. Une conversation qui soit collaborative par nature, inclusive de tou.tes les Canadien.nes et fondée sur la croyance que l'avenir du développement des ressources naturelles dépend de la promotion simultanée de la croissance économique, de la protection de l'environnement et du soutien d'une qualité de vie stable et positive pour les peuples autochtones et tou.tes les Canadien.nes.
L'ACNU et ses partenaires offrent La Nouvelle Diplomatie des Ressources Naturelles comme une contribution importante à cette conversation essentielle. Le programme s'appuie sur le pouvoir de rassemblement historique de l'ACNU et sur un modèle d'apprentissage fondé sur l'empathie comme instruments de consultation, de collaboration et de diplomatie efficaces en matière de développement responsable des ressources.
Organizer of Ocean Health and Stewardship - Reception and Networking Event