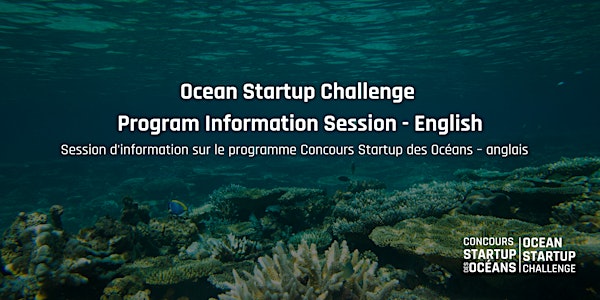 Ocean Startup Challenge Information Session
Learn how to submit a strong application for the 2022 Ocean Startup Challenge during our information session
About this event
Join the Ocean Startup Project for a Program Information Session about our 2022 Ocean Startup Challenge. We're hosting sessions on various dates and times throughout the summer; read through to the bottom to find a date/time that fits your schedule!
During this session, you'll learn more about the application process, tips and tricks for creating a strong video, what the funds cover, business support winners will receive, and how the program can help you take your ocean tech idea or early stage startup to the next level!
We will also be taking questions from attendees, so come prepared to ask! Have a question, but don't want to ask it during a public session? Send us an email: challenge@oceanstartupproject.ca
Information sessions will be held regularly throughout the summer months until the application deadline. If you can't make this one, be sure to check back for registration on the following dates:
Wednesday, July 13, 2022 (English)
Wednesday, July 20, 2022 (French)
Wednesday, July 27, 2022 (English)
Wednesday, August 17, 2022 (English)
Wednesday, August 24, 2022 (French)
Wednesday, August 31, 2022 (English)
Please note that these sessions will be recorded and may be shared on the Ocean Startup Project's YouTube channel for prospective applicants who may not be able to attend the scheduled sessions.