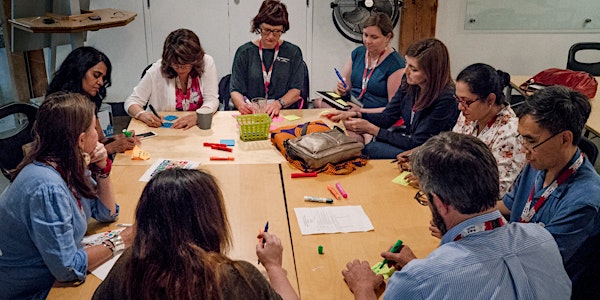 OCIC Making Monitoring, Evaluation & Learning Meaningful Workshop, in Partnership with Salanga
When and where
Location
192 Spadina Avenue Bigger Bolder Room Toronto, ON M5T 2C2 Canada
Refund Policy
Refunds up to 7 days before event
Description
OCIC Monitoring, Evaluation & Learning Workshop, in Partnership with Salanga
Deadline for registration is Tuesday October 24, 2017 at 5PM EST
Do you dream of a day when you can move beyond using data mostly for reporting to donors? Are you inspired to use your data for real-time decision making and learning but need some ideas? Do you ever wonder what to include and how much to cost out for your monitoring, evaluation and learning activities? If so, this is the workshop for you! This interactive, practical workshop focuses on two of most important, yet misunderstood, skills needed in MEL: learning and creating feedback loops from your data, and budgeting appropriately for MEL activities.
The first part of the workshop will focus on how to ensure information you collect makes a difference. Over 80% of the data collected from development projects is never analyzed or shared. Together we will explore different methods for sharing data with beneficiaries, management, different departmental teams and external stakeholders. Practical examples and tips will be shared amongst participants and together we will assess some of the goods, the bads and the possibilities of evidence-based decision making.
The second part of the workshop will focus on how to easily identify and plan costs for different MEL activities within a project budget. We will talk through and engage in hands-on exercises to map out major components to budget for (from hardware to software to learning) and discuss some of the most frequently asked questions when it comes to budgeting for MEL. At the end of the day you will leave with practical ideas, new MEL friends and more enthusiasm for how to ensure MEL is meaningful to you and your organization.
When: November 3, 2017 from 9:00 AM to 5:00 PM
Where: Centre for Social Innovation*, 192 Spadina Ave, Toronto, ON The Bigger Bolder Room
Registration: Registration fees cover the costs of all materials, fair trade breaks and vegetarian lunches. Registration fees are based on a principle of equity, and are intended to reduce barriers to participation to smaller OCIC member organizations.There must be a minimum of 15 participants for the workshop to proceed. Refunds will not be provided to organizations or individuals that contact OCIC less than five business days prior to the training to cancel.
Partial Travel Subsidies are available for smaller OCIC member organizations in good standing, to support economy class travel. Please contact Lisa at admin@ocic.on.ca to apply.
*This venue is wheelchair accessible, and LGBTQ Positive. Please provide details on any physical or dietary accommodations you may require, when you register.