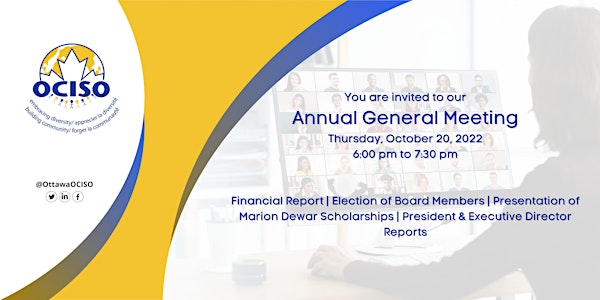 OCISO Annual General Meeting (AGM) 2022
Ottawa Community Immigrant Services Organization (OCISO) is inviting you to its Annual General Meeting 2022.
About this event
Dear Members of the Community,
Please join us for our virtual Annual General Meeting (AGM) on Thursday, October 20, 2022 at 6:00 pm.
A link to the virtual meeting will be sent to all registrants closer to the date. You are encouraged to join the video call as early as 5:45 pm on October 20th.
At the AGM, we will proudly share our accomplishments of the past year.
The AGM will include:
Financial Report
Election of Board members
Presentation of Marion Dewar Scholarships
President and Executive Director Reports
Voting/Membership: Only OCISO members in good standing can vote at the AGM. Members can vote by proxy. For information about how to become an OCISO member, please visit our website.
Questions: If you have any questions, please contact communications@ociso.org