October 18, 2017 CGS-SOS Cross Canada Lecture Tour - Advances in Dam Design (1.5 Hours PEO PEAK)

Wednesday, 18 October 2017 from 5:30 PM to 8:30 PM (EDT)
Event Details
Abstract:  Embankment dam performance and life span are closely related to the hydric, thermal and mechanical behaviour of materials used during its construction. The apparent simplicity of embankment dams hides complex and often poorly known behaviours resulting from thermo-hydro-mechanical coupling phenomena. Understanding the different behaviours as well as their interrelationships is of paramount importance to optimize the life cycle of these structures.
Hydro-Québec Production obtained the necessary approvals to build a 1,550-MW hydroelectric complex on the Rivière Romaine, north of the municipality of Havre-Saint-Pierre on the north shore of the St. Lawrence. The complex will consist of four hydropower generating stations with average annual output of 8.0 TWh.
Construction of the Romaine-2 development began in 2009. Romaine-2 was commissioned in 2014 and the Romaine-1 development was commissioned in 2015. Work on the Romaine-3 and Romaine-4 developments, which will be operational in 2017 and 2020, respectively is underway.
Since 2009, the NSERC/HQ industrial research chair in Life Cycle Optimization for Embankment Dams contributed to the advancement of various aspects in dam design.  Major developments for seepage induced erosion are presented.  The use of centrifuge testing for predicting deformation of Romaine 2 are discussed.  Rockfill properties are viewed from a fractal perspective.
Speaker:  Dr. Jean-Marie Konrad, ing., Ph.D.   Dr. Konrad is a registered civil engineer with a Master's degree from Université Laval and a Doctorate degree from the University of Alberta where he contributed to the development of frost heave mechanics.  He worked in the private sector as a geotechnical engineer for SNC-Lavalin and James-Bay hydro electric Corporation, at the National Research Council with respect to the geotechnical aspects of the artificial drilling islands in the Beaufort Sea, development of interpretation techniques of in situ testing data in weak soils and academia at the University of Waterloo (Ontario) and Université Laval (Québec).  From 1998 to 2008, he was the Chairholder of an NSERC industrial research chair on frost action in civil engineering structures.  Presently he is professor of civil engineering at Université Laval, Quebec and also the Chairholder of an NSERC industrial research chair on the optimisation of the life-cycle of earthdams. Dr Konrad is the author or co-author of over 150 technical papers.  For the last twenty-five years, he was also a consultant for various projects related to artificial freezing, permafrost engineering, dam construction and safety assessment.
When & Where

St. Bernard Church
1789 Lawrence Avenue West
Toronto, ON M6L 1E3
Canada

Wednesday, 18 October 2017 from 5:30 PM to 8:30 PM (EDT)
Add to my calendar
Organizer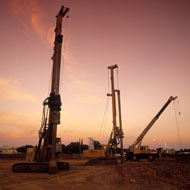 About Us
The Canadian Geotechnical Society Southern Ontario Section (CGS-SOS) represents the national organization at the local level centered at the Greater Toronto Area (GTA) and covering some cities in Southern Ontario. The CGS-SOS was established in the early 1970s and forms the largest region of the Society. Its purpose is to provide opportunities for continuing education (through lectures and seminars), and for constructive dialogue and sharing of experiences. This is accomplished through organizing events on about a monthly basis.
The Canadian Geotechnical Society (CGS) is an independent, federally incorporated, non-profit learned society which exists to serve and promote the geotechnical and geo-science community in Canada. It encompasses a wide spectrum of scientific and engineering disciplines within the geotechnical field. Membership is open to individuals from all sectors including private consulting, universities, industry, contracting and public services.