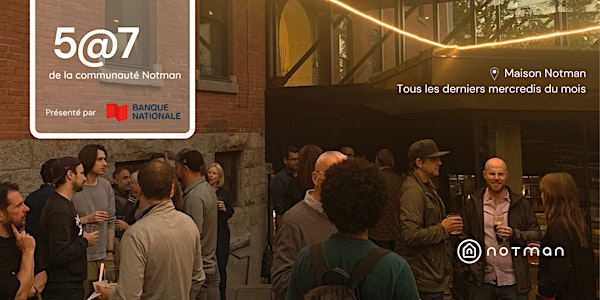 October 5@7 at Notman House
Safe & serendipitous collisions are back at Notman! Join us for our next in person Happy Hour @ Notman House
When and where
Location
Notman House 51 Sherbrooke St O. Montreal, QC H2X 1X2 Canada
About this event
**en français plus bas**
Notman hosts a community Happy Hour every month (as long as public health allows). The next event will take place on Wednesday, October 27, 2021 at 5:00 pm at Notman House .
⚠️ In order to respect the sanitary rules in effect and the maximum capacity, the 5@7 is by registration only (one ticket per person). A vaccination passport is mandatory.
The Happy Hour is open to everyone. Notman members, startup founders, future entrepreneurs, alumni, technology lovers, curious people.
Ticket is free. Our residents and members get one free beer or non-alcoholic beverage.
**Français**
Notman organise un 5@7 de la communauté tous les mois (tant que la santé publique le permet). Prochain rendez-vous le mercredi 27 octobre 2021 à 17h à la Maison Notman.
⚠️ Afin de respecter les règles sanitaires en vigueur et la capacité d'accueil maximale, le 5@7 est sur inscription seulement. Le passeport vaccinal est obligatoire.
Le 5@7 est ouvert à tou.te.s. Les résident.e.s de Notman, les fondateur.rice.s de startups, les futur.e.s entrepreneur.e.s, les passionné.e.s de technologies, les curieux.ses.
The Notman House
Notman House offers a vibrant and accessible environment that fosters collaboration and the transfer of knowledge and know-how between the various players in the Montreal startup community.
More than a technology campus, Notman is a third place, a strong anchor in its local community, which plays the role of a unique business hub, a unifying, prosperous and attractive living environment.
Hurry up and get your ticket, space is limited

La Maison Notman
La Maison Notman offre un milieu vibrant et accessible à tous qui favorise la collaboration ainsi que le transfert des connaissances et du savoir-faire entre les différents acteurs de la communauté de startups de Montréal.
Plus qu'un campus technologique, Notman est un tiers lieu, un point d'ancrage fort dans sa collectivité locale, qui joue le rôle de pôle d'affaires unique, de milieu de vie rassembleur, prospère et attractif.
Dépêchez-vous de prendre votre billet, le nombre de places est limité
Passeport vaccinal
Depuis le 1er septembre, le passeport vaccinal est exigé par la Santé publique pour accéder à nos événements. Le passeport vaccinal atteste qu'une personne de 13 ans et plus est adéquatement protégée contre la COVID-19.
À votre arrivée à l'événement, vous devrez fournir une preuve de vaccination contenant un code QR sous l'une des trois formes suivantes:
- Format papier ou PDF sur votre appareil mobile;
- À partir de l'application VaxiCode.
COMMENT PUIS-JE RÉCUPÉRER MON PASSEPORT VACCINAL?
Toute l'information concernant le fonctionnement et la récupération de votre passeport vaccinal sous toutes ses formes se trouve ici: OBTENEZ VOTRE PASSEPORT VACCINAL
QU'EST-CE QUE JE DOIS AMENER?
Assurez-vous de télécharger votre preuve AVANT de venir à l'événement. Vous aurez besoin de votre passeport vaccinal (code QR) ET une pièce d'identité avec photo.
APRÈS COMBIEN DE TEMPS PUIS-JE AVOIR LE STATUT ADÉQUATEMENT VACCINÉ?
Vous devrez attendre 7 jours après votre 2e dose (Pfizer, Moderna, AstraZeneca) ou première dose si vous avez contracté la COVID-19 il y a plus de 21 jours.
À bientôt!
**ENGLISH**
Since September 1st, the vaccination passport is required by the Public Health to access our events. The vaccination passport certifies that a person 13 years of age or older is adequately protected against COVID-19.
When you arrive at the event, you'll need to provide proof of vaccination containing a QR code in one of the following forms:
- Paper format or PDF format on your mobile device;
- Proof on the VaxiCode application.
HOW DO I RETRIEVE MY VACCINATION PASSPORT?
All information regarding the operation and retrieval of your vaccination passport in all its forms can be found here: GET YOUR VACCINAL PASSPORT
WHAT DO I NEED TO BRING?
Be sure to upload your proof BEFORE you come to the event. You will need your immunization passport (QR code) AND photo ID.
HOW LONG DOES IT TAKE FOR ME TO BE PROPERLY VACCINATED?
You will have to wait 7 days after your 2nd dose (Pfizer, Moderna, AstraZeneca) or first dose if you contracted COVID-19 more than 21 days ago.
See you soon!