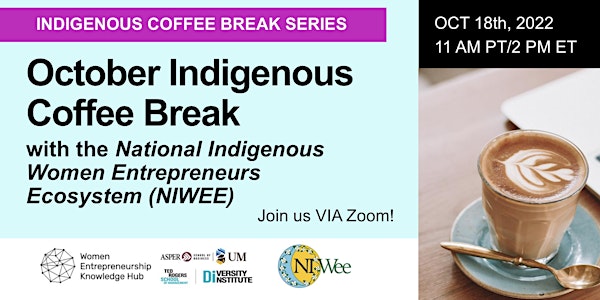 October Indigenous Coffee Break: NIWEE
Join us for our October Indigenous Coffee Break. Featuring special guests from the National Indigenous Women Entrepreneurs Ecosystem!
About this event
ABOUT INDIGENOUS COFFEE BREAKS
WEKH Indigenous Coffee Break Series - 2022, provides monthly, 1-hour long sessions that connect aspiring and established Indigenous women entrepreneurs (IWEs) directly with, both Indigenous and non-Indigenous, ecosystem support organizations. These sessions aim to bring awareness to the resources and opportunities available to IWEs in various industries, regions, and sectors across the traditional lands and territories that make up what is known as Canada.
These sessions are designed to create a safe space for IWEs to ask questions and seek the support they need during any stage of their entrepreneurial journey. Please note that each session is unique, and topics may be explored either in a broad or specific format. Please refer below for more detailed information regarding this particular session.
We hope to see you there!
*Our use of the term women is inclusive, including cis women, trans women, Two Spirit, genderqueer, gender fluid, and non-binary folks.
NIWEE.ca is a new and unique National Indigenous Women Entrepreneurs' Ecosystem. Federally Chartered Not-for-Profit Corporations Owned by its Indigenous Members.
IN THE NEXT 3-YEARS, WE WILL SUPPORT 100 INDIGENOUS WOMEN IN LAUNCHING AND /OR GROWING A BUSINESS OF THEIR CHOICE.
Welcome to your new and unique Indigenous non-profit entrepreneurship community. Skill up with training, business coaching, industry mentorship and resources to help you launch a business you love and lead the growth of your early-stage enterprise.
Have questions about this session, our guest speakers, or WEKH's Indigenous Coffee Break series? Please reach out to kara.thorvaldson@umanitoba.ca.