Odlum Brown Fort Langley Jazz & Arts Festival - In-Person LIVE Tickets
Live and in-person September 2-5, 2021 at Chief Sepass Theatre in Fort Langley, BC
About this event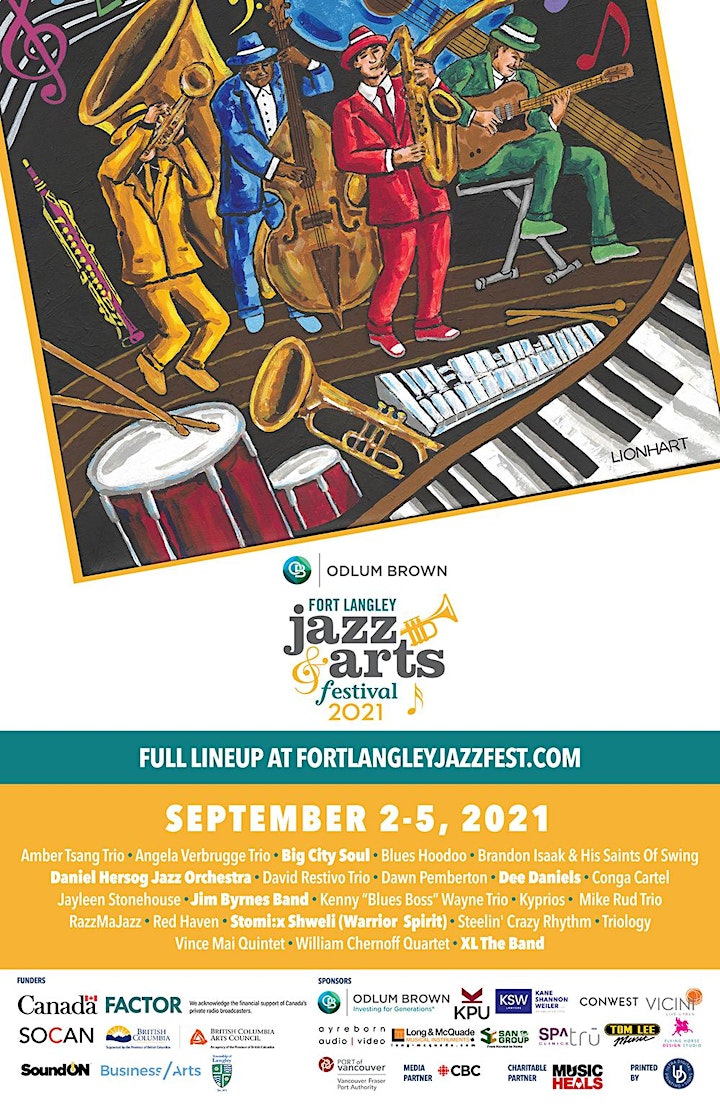 Now LIVE and IN-PERSON for September 2021, with extremely limited seating capacity at Chief Sepass Theatre. Get your tickets now before they're sold out!
Purchase a ticket for just one show for $50, or come for the whole weekend - including the Saturday Night R&B Show - and save $25 with our $199 festival pass!
** Taxes and fees extra. Does not include online streaming access, which must be purchased separately.
Prefer to stream online from the comfort of your home or backyard? Get your online streaming passes here: https://www.eventbrite.com/e/odlum-brown-fort-langley-jazz-arts-festival-live-streaming-tickets-157270645735
The Odlum Brown Fort Langley Jazz & Arts Festival is grateful for the ongoing support of our presenting sponsor, Odlum Brown Limited and to our audience, funders, volunteers, board members, and staff for their continued support of the festival and for making this weekend happen.
We'll see you there!!
This year's lineup:
Thursday: Hip Hop Jazz Fusion, presented by Ayreborn Audio|Video
7:00 pm - Red Haven
7:30 pm - Kyprios
8:00 pm - XL The Band
Friday: All-Star Blues, presented by Conwest/Vicini Homes, supported by SpaTru
7:00 pm - Kenny "Blues Boss" Wayne Trio
7:30 pm - Brandon Isaak and His Saints of Swing
8:00 pm - Jim Byrnes Band + Special Guest Candus Churchill
Saturday: All That Jazz, presented by Kane Shannon Weiler LLP, supported by San Group of Companies
7:00 pm - The David Restivo Trio
7:30 pm - Vince Mai Quintet
8:00 pm - Daniel Hersog Jazz Orchestra
Saturday: In-Person R&B Show
Take in the Big City Soul performance in our theatre at the Chief Sepass Theatre (sorry, no dancing permitted for the in-person show due to Provincial Health Regulations.)
Sunday: Soul Gospel co-presented by Music Heals, supported by Site Lines Architecture
7:00 pm - Dawn Pemberton
8:00 pm - Dee Daniels
For more information on this year's lineup and ticket packages, please visit https://fortlangleyjazzfest.com
Organizer of Odlum Brown Fort Langley Jazz & Arts Festival - In-Person LIVE Tickets
The Fort Langley Jazz & Arts Festival is a not-for-profit organization with a mandate to enrich cultural life in the Fraser Valley by bringing emerging and established jazz acts and visual art together to Fort Langley for all to enjoy. Established in 2018, the festival draws thousands of residents and visitors to the streets of Fort Langley during the last weekend in July.
The festival is organized by a committee of community-spirited individuals from civic, business, and artistic enterprises that see the need and the unique opportunity to create a community arts festival that brings together live jazz music and visual art to the quaint and beautiful setting of Fort Langley, British Columbia. What started as an idea and a few conversations in late 2017, grew quickly into a reality after the favourable support and interest by the Township of Langley, local community groups and businesses and members of the community