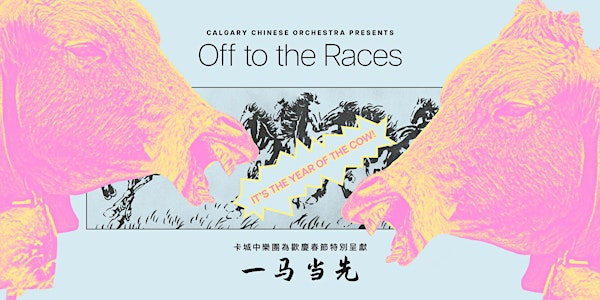 Off to the Races: Film Premiere & After-Party
An online film premiere to celebrate the 2021 Chinese New Year!
Refund Policy
Contact the organizer to request a refund.
Eventbrite's fee is nonrefundable.
About this event
Premiere time: 2pm MST / 4pm EST / 1pm PST
To celebrate the 2021 Chinese New Year, Calgary ChineseOrchestra (CCO) will host the online film premiere of Off to the Races on February 14th,2021 at 2pm MST. The one-hour event will feature the musical short film, followed by anonline after-party with interviews and SURPRISES!
Part music video and part documentary, the short film, Off to the Races is about the classic Erhu piece called "Horse Race". The film is a collaboration between CCO, award-winning filmmaker Vicki Van Chau, and Calgary music producer Warren Tse. Through an open call process, the film features participants from the global music community playing with the members of CCO. We hope to ring in the year of the Cow and bring joy to audiences with a new twist on a beloved classic.
For more information, please email: info@calgarychineseorchestra.com
About Calgary Chinese Orchestra
Calgary Chinese Orchestra (CCO) was founded in 1997 and is dedicated to promoting Chinese music andinstruments in a fun and joyful environment through education and performance. The only Chinese ensemble in town focusing on chamber and orchestra music, CCO features a wide range of Chinese musical instruments,each with rich ancient histories. In 2018, with the aim to provide a better learning environment and to expand itsmusical and program horizons, CCO partnered with Mount Royal University Conservatory and invited flutist Jiajia Li to be its Artistic Director. For news and updates, please visit our website: www.calgarychineseorchestra.com , or follow us @CalgaryChineseOrchestra on Facebook and Instagram.
首映時間
卡爾加里:2pm
溫哥華:1pm
多倫多:4pm
卡城中樂團(CCO)將於2021年2月14日(大年初三),山區時間下午2點,在網上舉辦為慶祝2021年春节而創作的音樂短片《一馬當先》的首映禮。為時一小時的活動包括採訪創作團隊,與觀眾互動,以及抽獎和驚喜!
《一馬當先》是一部紀錄式的音樂短片,講述經典二胡作品"賽馬"。短片由卡城中樂團策劃,與屢獲殊榮的電影製片人Vicki Van Chau,以及音樂製作人Warren Tse合力製作。參與的表演者不但有卡城中樂團成員,更有來自本地(卡爾加里), 溫哥華,多倫多,以及美國,新加坡,中國等世界各地的音樂愛好者和藝術家。我們希望這部作品能為觀眾帶來新的體驗及不一樣的"賽馬"。更希望在疫情期間為大家帶來一點歡樂。
《一馬當先》首映禮為免費活動。有興趣者請提前進行註冊。
如有興趣獲得更多有關信息,請發送電子郵件至:info@calgarychineseorchestra.com
卡城中樂團簡介
卡城中樂團(CCO)成立於1997年,為Alberta省註冊的非牟利藝術團體,其宗旨為在加拿大推廣和介紹中國傳統音樂文化。樂團為大眾提供一個輕鬆的學習環境,普及歷史悠久的中國樂器。樂團是卡城唯一一個致力發展中樂交響與協作的音樂團體,推廣傳頌千年的古音,豐富多彩的少數民族音樂,也在保持民族音樂特色的基礎上嘗試融合,包括表演新作品,改編西方音樂以及流行音樂。二十年來,樂團積極在各種場合演出數百場,受到各界人士的好評。2018年,卡城中樂團與皇家山大學音樂學院達成合作協議,成為學院旗下的課程,為團員提供一個更好的學習環境。同年,更邀請到長笛演奏家李佳佳女士為其藝術總監,令樂團更上一層樓。樂團為熱愛中國傳統音樂的人士提供表演和學習的平台,也隨時歡迎更多樂友加入我們。有興趣者請訪問網站 www.calgarychineseorchestra.com,或跟蹤我們的社交媒體Facebook and Instagram @CalgaryChineseOrchestra