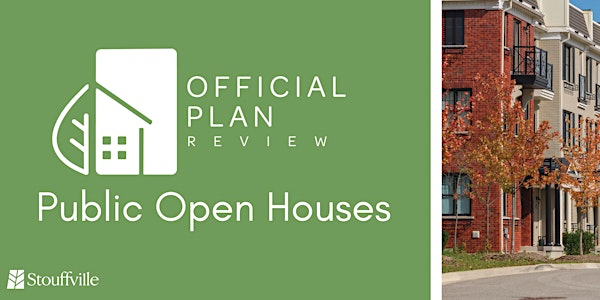 Official Plan Review – Public Open House (IN-PERSON)
Notice of (In-Person) Public Open House: Town of Whitchurch-Stouffville Official Plan Review
When and where
Location
19 On The Park - Lebovic Centre for Arts & Entertainment 19 Civic Avenue Whitchurch-Stouffville, ON L4A 1G5 Canada
About this event
The purpose of the In-Person Public Open House is to provide the public with an opportunity to review, ask questions and provide input on the 2nd Draft of the New Town of Whitchurch-Stouffville Official Plan.
A series of background and direction reports presented to Town Council throughout the Official Plan Review process supported development of the first draft Official Plan which was released in July 2022. Since July, staff have been actively engaged with the public and technical agencies and have considered their comments in the updated version of the Draft Official Plan.
The Town is currently seeking input to further refine the policies of the 2nd Draft New Official Plan prior to finalization. The 2nd Draft Official Plan will be available for review on the project webpage: https://www.cometogetherws.ca/opr.
When & Where?
Monday, December 12th, 2022 @ 6:00PM – 8:00PM In-Person at 19 On The Park.
19 On The Park - Lebovic Centre for Arts & Entertainment
19 Civic Avenue, Whitchurch-Stouffville, ON, L4A 1G5
In-Person Public Open House
During the In-Person Public Open House, there will also be an opportunity to provide comments on the 2nd Draft Official Plan. Should you require any assistance, the Town can accommodate. Please send us an email at opreview@townofws.ca.
What is an Official Plan?
An Official Plan is a policy document that provides direction for the management of land uses and services in the Town. An Official Plan is important for the Town in order to inform the public about the municipality's general land use planning policies, and to make sure growth is coordinated and meets the community's current and future needs.
Additional Information:
For more information, please contact Randall Roth, Senior Policy Planner, Town of Whitchurch-Stouffville at opreview@townofws.ca or (905) 640-1910 ext. 2260
Other ways you can participate:
We need your input throughout the Official Plan Review process. There are a number of ways you can stay engaged, receive updates and provide your input. Below is a list of ways you can provide feedback to the Town.
- Visit the project website for regular study updates and materials at cometogetherws.ca/opr
- Sign-up for our Interested Parties email list or submit comments by emailing opreview@townofws.ca