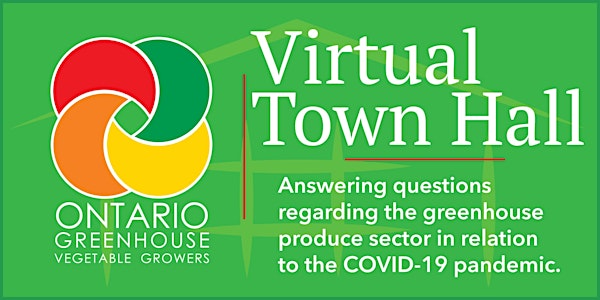 OGVG Virtual Town Hall
OGVG Town Hall, Regarding the Greenhouse Sector in relation to the COVID-19 pandemic.
About this event
Ontario Greenhouse Vegetable Growers (OGVG) will be hosting a Town Hall on Thursday August 13th at 2pm.
In this town hall panelists from OGVG will be answering questions received in advance from the community and via the registration process.
Due to time constraints, OGVG will try to address all questions received however we cannot guarantee that all will be covered.
This event will be hosted via GoTo Webinar.
We apologize for the additional steps in the registration process. As this is a new endeavour for our organization, we will be improving on our registration procedure in upcoming sessions.
Please click the link below to finalize your attendance to the OGVG Virtual Town Hall:
https://attendee.gotowebinar.com/register/2474395252110643470
After registering, you will receive a confirmation email containing information about joining the webinar.
Thank you again,
The Ontario Greenhouse Vegetable Growers Team