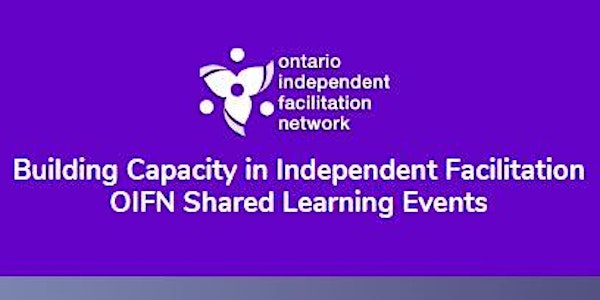 OIFN Building Capacity in Independent Facilitation: Shared Learning Events
Shared Learning events for people living with disabilities, family members, loved ones, and aspiring, new, and experienced facilitators.
Refund Policy
Contact the organizer to request a refund.
Eventbrite's fee is nonrefundable.
About this event
Courses will be held virtually using Zoom Video Conferencing.
The courses will be delivered in an interactive format, to include a combination of presentation, small group work, reflective exercises, whole group dialogue, and invitations to do some reading and reflection prior to the sessions.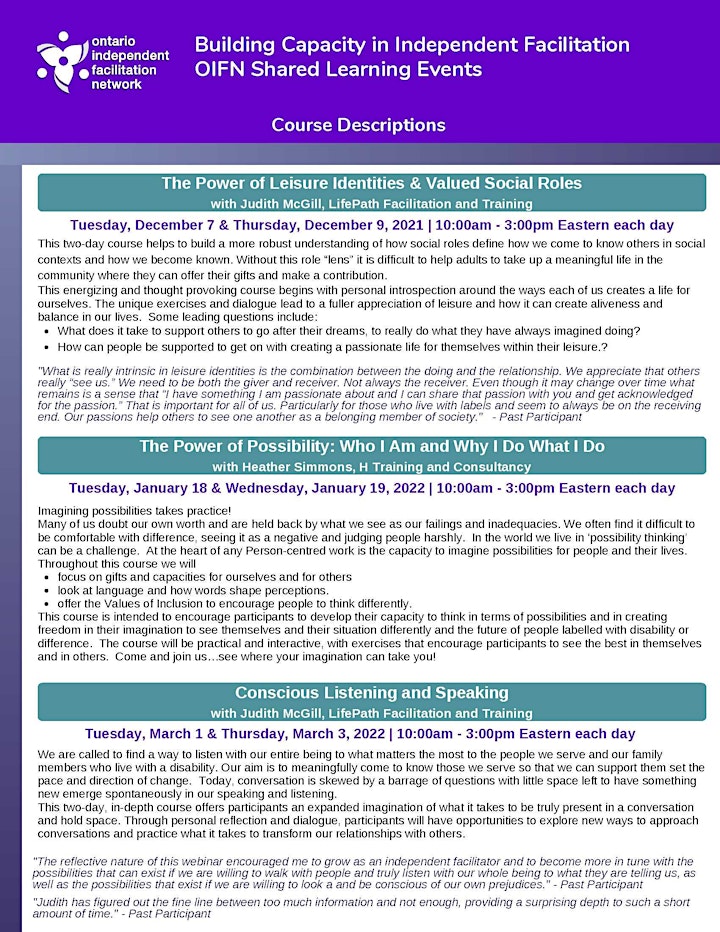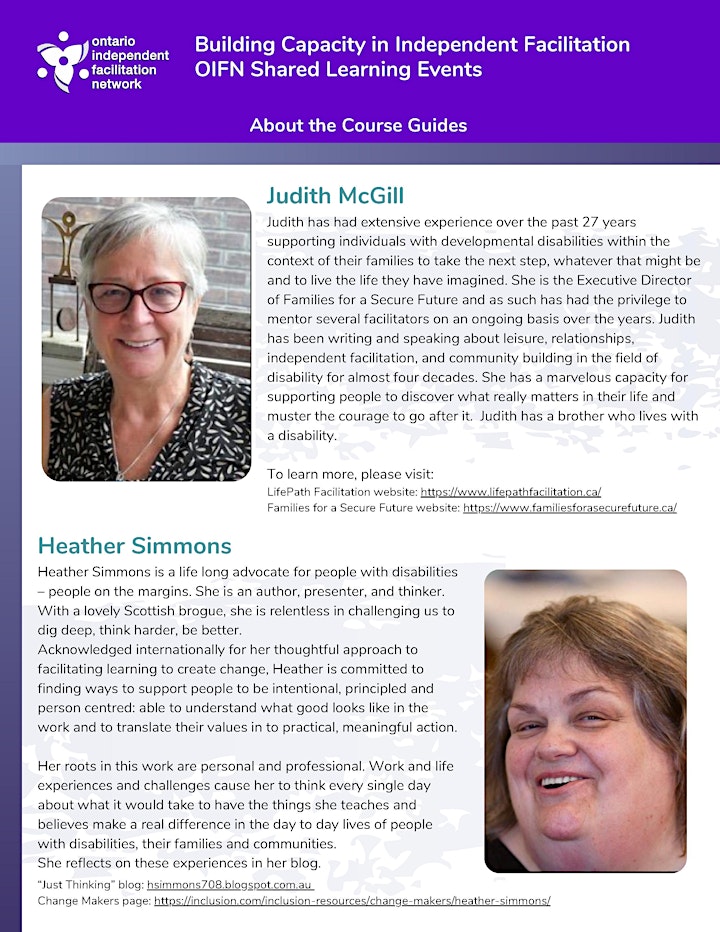 Who would benefit from these courses?
These offerings were developed with the intention of creating a shared learning experience that includes people living with disabilities, family members and/or loved ones, and aspiring, new, and experienced independent facilitators. OIFN invites participants who are interested in learning together in an inclusive space where all perspectives are present and heard and where co-learning, reflection, and deepening of capacities are grounded in the insights and experiences of people and families and/or loved ones.
Do I need to take all of the courses to be able to participate?
No, you are welcome and encouraged to partake in any of these course offerings as you wish. There is value in each of the courses on a stand-alone basis, and each course will offer unique opportunities to deepen one's capacity and understanding of the practice.
Will OIFN be offering other dates/times for these courses?
Additional dates will be considered, based on available resources, demand, and feedback received from these sessions. OIFN will be pursuing opportunities to continue to offer co-learning events in the future.
Does completion of these courses "certify" me as an independent facilitator?
OIFN does not certify or endorse independent facilitators in Ontario. Independent facilitators are not part of a regulated profession. This means that there is not one specific path, course, or background required to become an independent facilitator.
Upon completion of a course, participants may e-mail Bill Rollo at brollo@oifn.ca to request Recognition of Participation.
Are there subsidies available for people with disabilities and their family members?
OIFN strives to offer affordable rates and encourage broad participation in these learning events.
People who receive Passport funding can submit for reimbursement of course fees.
If the cost of courses would stop you from participating, please know that OIFN has some bursaries available for people, family members, and/or loved ones, and independent facilitators. Please fill out the OIFN Bursary Request Form to be considered. Please know that we will do our best to fulfil all requests; however, available funds are limited.
What can I expect as a participant?
Participants will be able to interact, reflect on the practice, and dialogue in meaningful ways in pairs and small breakout groups. Each course offering will have no more than 25 participants.
Prioritizing comfort and engagement, the sessions will include time for health and body breaks throughout the day.
Will there be an preparation needed before and/or in between course days?
The course guides often share materials and resources 1 week ahead of the course to support the personal learning journey of all participants. Although many materials may be sent out prior to a course, it is not expected that participants will have read through everything prior to our time together. In instances where the course leader recommends specific resources or exercises to be completed prior to the course, this expectation will be outlined clearly to participants with decent notice.
If you need assistance to register, please contact Bill Rollo, OIFN Administrative Assistant
brollo@oifn.ca or 519-966-8094, Ext. 6