OIRM Stem Cell and Regenerative Medicine Symposium 2019

Wednesday, 15 May 2019 from 8:30 AM to 5:00 PM (EDT)
Event Details
OIRM's Stem Cell and Regenerative Medicine Symposium is an annual one-day event that brings together scientists, clinicians, trainees, industry, health charities, and government to share advances in the field of regenerative medicine. The Symposium features presentations from some of Ontario's leading experts, including representatives from OIRM-funded Disease Teams and discovery science presentations highlighting some of Ontario's most innovative new ideas.
This year's keynote speaker is Dr. Pete Coffey, PhD. from University College London.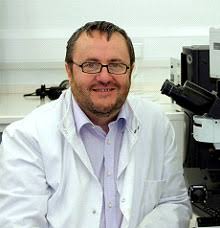 Dr. Coffey is director of the London Project at UCL a program aimed at developing novel therapies to cure blindness. Dr. Coffey is a world leader in this space being the first to use human embryonic stem cells for age-related macular degeneration and retinitis pigmentosa. He has authored and co-authored numerous papers including two landmark papers demonstrating the use of humans cells to halt visual deterioration in models of age-related macular degeneration. Having received many honors and awards, including the prestigious Estelle Doheny Living Tribute Award in 2009, Retinitis Pigmentosa International's Vision Award in 2009, the CIRM Leadership Award in 2010, and the New York Stem Cell Foundation Roberston Prize in 2011.
This year's symposium will feature talks from OIRM's Disease Teams, New Ideas and Fellowship awardees. In addition, there will be two breakout sessions: Making Functional Models of Disease and Trends for the Future: Moving ES/IPS cells into the clinic. 
Agenda:
Time

Agenda

8:30-9:00

Registration

9:00- 9:20

Opening remarks and funding announcement

9:20-10:40

Session 1; Clinical Translation 

Marc Jeschke - Sunnybrook Research Institute - A trial to improve wound healing using stem cells from patient's own discarded burned tissue

Michael Rudnicki - Ottawa Hospital Research Institute - Stimulating muscle repair for duchenne muscular dystrophy

 JC Zuniga-Pflucker - University of Toronto and Sunnybrook Research Institute - Producting T cells from stem cells for immune regeneration 

Sowmya Viswanathan - Krembil Research Institute - What happens to cells injected in the knee of osteoarthritis patients

 

10:40-11:05

Coffee Break

11:05-12:15

Break-out Session A: Panel on Functional Characterization 

Penney Gilbert - University of Toronto

Sara Vasconcelos - Toronto General Research Institute 

Liliana Attisano - University of Toronto

  

11:15-12:15

Break out  Session B; Panel on Trends for the future, moving ES/iPS into the clinic

David Courtman - Ottawa Hospital Research Institute


Cristina Nostro - McEwen Stem Cell Institute

Michael Laflamme - McEwen Stem Cell Institute

 

12:15-1:30

Fireside Chat on Commercilization (45min)

Moderator: Richard Meadows - BioInnovation Capital Fund

Speakers:

Gail Garland - OBIO

James Rowland - Bloom Burton 

 

1:30-3:20

Session 2: Discovery Science  

Keir Menzies - University of Ottawa - Boosting cellular energy signals in muscle stem cells as a therapy for muscular dystrophy

Manoj Lalu - Ottawa Hospital Research Institute - Collaborative laboratory-based study of stem cell therapies: Preclinical multicentre acute lung injury trials in Canada (PreMATIC)

Vladimir Manchev - Postdoctoral Fellow - University Health Network 

Maryam Faiz - University of Toronto - Making new neurons from resident brain cells: A new therapy for stroke repair?

Phillip Karpowicz - University of Windsor - A matter of timing: How the circadian clock regulates intestinal regeneration and cancer

Pierre Mattar - Ottawa Hospital Research Institute - Developing new reporgramming strategies for cell replacement therapy of glaucoma 

 

3:20-3:45

Coffee Break and networking

3:45-3:50

Introduction

3:50-4:50

Keynote:

Pete Coffey - University College London

The London Project to Cure Blindness at ten years - Have we found a cure?

 

4:50-5:00

Closing remarks
This event is made possible with the generous support of our sponsors: 

When & Where

Peter Gilgan Centre for Research and Learning
686 Bay Street
Auditorium, 2nd floor
Toronto, ON M5G 0A4
Canada

Wednesday, 15 May 2019 from 8:30 AM to 5:00 PM (EDT)
Add to my calendar
Organizer
The Ontario Institute for Regenerative Medicine (OIRM) is a non-profit stem cell institute funded by the Ontario government and dedicated to transforming discoveries into clinical trials and cures. Through our commitment to collaboration and partnerships, we leverage our resources to fund and support promising advances. OIRM is a passionate champion for investigators and their patients as we build a healthier future for Ontario, Canada, and the world.