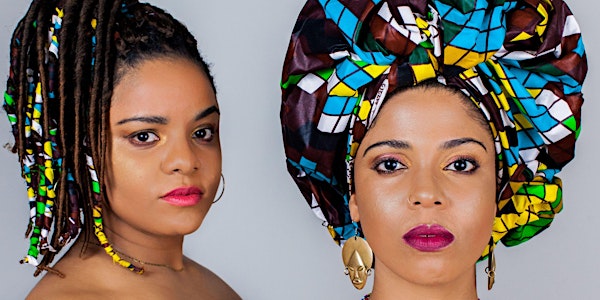 OKAN in Concert
Presented by TD SUNFEST in partnership with the Wolf Performance Hall
Location
Wolf Performance Hall
251 Dundas Street
London, ON N6A 6H9
Canada
2021 JUNO Award Winner, OKAN, live in concert at the Wolf!
About this event
OKAN blends traditional Cuban music, jazz, and contemporary Afro-Cuban sounds, and embraces every culture and welcomes it as its own. In the religion of santería, "okan" means "soul." This is embodied in the great sophistication of their music – a look to the history of Cuban music with a modern and fresh touch, the evolution of Cuban music outside of Cuba.
Tickets:
Advanced: $28 + fees
At the Door: $33 + fees
OKAN is a female-led ensemble (Elizabeth Rodriguez and Magdelys Savigne) that fuses rich Afro-Cuban roots with jazz, folk and global rhythms in songs about immigration, courage and love. If you were gathered around the Jazz Village and/or South Stage at TD Sunfest '19, this is the Toronto collective that blew the roof off the tent (metaphorically speaking) and then – no surprise – won the 2019 Stingray Rising Stars Award presented by Sunfest.
Havana-born Rodriguez is a classically trained violinist who once served as the concertmaster for her city's Youth Orchestra. Savigne was born on the other side of the island in Santiago de Cuba and graduated with honours in orchestral percussion. Both trained at Havana's University of the Arts, yet didn't connect until later, when they were in Canada contributing to Jane Bunnett's acclaimed all-female band Maqueque.
OKAN have released two exceptional albums: their JUNO and Canadian Folk Music Award-nominated and Independent Music Award-winning debut, Sombras, and their sophomore release Espiral, (Lulaworld Records, 2020). The latter garnered international praise from OkayAfrica, NPR and Songlines, and was included in CBC Music's Top 20 and NPR's top 10 Alt Latino albums of the year. Add to those honors a 2021 JUNO win for World Music Album of the Year. CBC Music describes Espiral as "push[ing] Latin jazz into new and unexpected territories... [It is] lush and vibrant, urgent but specific and deeply intentional."
"Part of the point is to rescue those genres and those rhythms that people in Cuba don't even use anymore," explains Savigne. "The music that people are listening to back in Cuba now is so much to do with pop. But one thing that Cuba has is a great legacy in music, and it's so creepy because you start appreciating those things more once you're outside of Cuba."
Follow Sunfest: