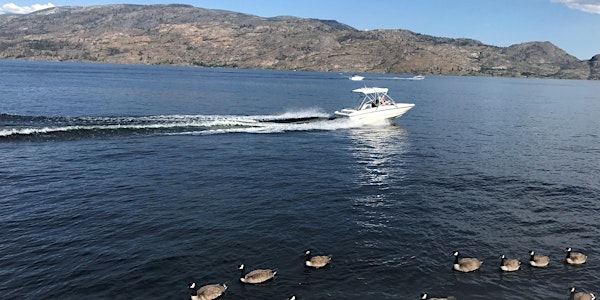 Okanagan Boating – Benefits, Impacts and Solutions
Location
Manteo at Eldorado Resort
3762 Lakeshore Road
Kelowna, BC V1W 3L4
Canada
A workshop to discuss the benefits and impacts of boating and its supporting facilities in the Okanagan and collaborate to find solutions.
About this event
JOIN US for this FREE workshop, organized by the Okanagan Basin Water Board, on June 22nd from 9 a.m. to 3 p.m. at Manteo at Eldorado Resort, 3762 Lakeshore Rd., Kelowna. A DELICIOUS LUNCH WILL BE PROVIDED!
Boating is a big part of the Okanagan lifestyle – for residents and tourists. We understand why! There's nothing like getting out on the water and feeling a warm Okanagan breeze wash over you, the relief of jumping into refreshing Okanagan waters, and just taking in the natural beauty of the valley.
At the same time, the valley-bottom lakes provide drinking water to many residents and habitat for fish, birds, and other wildlife. Boating and its supporting facilities (e.g. docks, launches, marinas) can impact these important functions. Our plan is to bring valley voices together to discuss the issues, find solutions, and work together to respond.
This workshop is by invitation only.
The event will feature:
Understanding impacts, concerns, and challenges: short presentations from First Nations, experts in water quality, wildlife, fish and habitat, and invasive species, and local and senior governments, and sharing of attendee perspectives.
Field tour: walking tour in small groups guided by experts to look at impacts and mitigation efforts.
Taking action: discuss potential solutions and next steps.
Audience for the event includes:
Okanagan local governments
Okanagan Indigenous organizations
Provincial and federal governments
Consultants
Boating industry representatives
Boating clubs
Dock and marina builders
Academia
Conservation/non-profit groups
For more information please contact Carolina Restrepo Tamayo at carolina.restrepo@obwb.ca