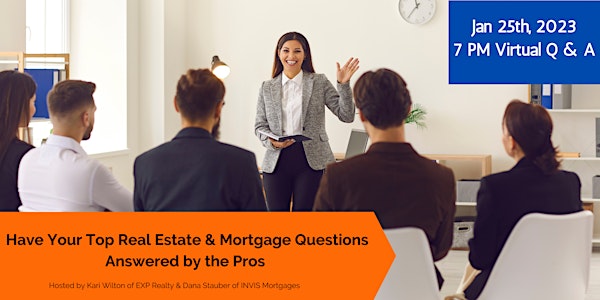 Okanagan Real Estate & Mortgage Question Period
Answers to questions on buying and selling in our current market and how interest rates can affect you and what you can do to help yourself.
About this event
There is no such thing as a dumb or silly question. Dana & myself, Kari, are here to answer them all. 30 Minute Zoom Meeting with a brief overview of what's happening with real estate and interest rates and where it's going. How does it affect your future plans? Should you wait to buy or sell? Best time to sell in any market? My mortgage renewal is coming up, should I do variable or fixed? Pros and Cons of each?
Dana Stauber of INVIS Mortgages has many years of experience in the banking system and as a licensed Mortgage Broker in BC. Dana is passionate about ensuring people have the correct information to make their best decisions when it comes to the largest asset you will ever own. She never shies away from a challenge and is always there with a second opinion.
Kari Wilton of EXP Realty has been buying and selling real estate in the Okanagan for the past 7 years. Kari's passion is real estate for investment and wealth building but also ensuring that anyone wanting to own a home is equipped with the correct knowledge on how the process works, what your first steps are, and of course the importance of having your team together; brokers, agents, home inspectors, whatever you need. You don't buy or sell in a day, there are weeks or even months of preparation.
Join us for this 30 minute Q&A. This is your time to ask all the questions you may be wondering about with no obligation past that.
Register For the FREE Q & A Session
Upon Registration you will be sent a Zoom Invitation Link. We look forward to speaking with all of you. Limited Space so register NOW!