Okavango African Orchestra

Thursday, June 6, 2013 at 9:00 PM
Event Details
add'l info: $20 @ door | entry at 8 PM
reserve for dinner to guarantee seating: contact Lula Lounge
the return of
OKAVANGO AFRICAN ORCHESTRA
12 instruments, 10 languages, 7 countries…
one debut album preview concert
Over the autumn and winter of 2012, the reassembled Okavango African Orchestra revisited the site of its triumphant debut, the Canadian Broadcasting Centre where it conquered a full-house at Glenn Gould Studio in February 2011. Its members, returning and new, hunkered down in Studio 211 for the recording of the group's debut album, due for release in late 2013.

Two years now since its last appearance, Batuki Music Society brings the Okavango African Orchestra to Lula Lounge for an exciting look ahead on its continuing journey to an "Africa without borders... before the borders were created".



OKAVANGO AFRICAN ORCHESTRA
The orchestra takes its name from the Okavango Delta, a basin in the Kalahari Desert in Botswana, where many different animal species come together to feed and find water. Predators and prey are forced to coexist and share the meager resources because of the harsh environment around them.

Similarly, Okavango African Orchestra brings together the traditional music and instruments of several major African cultures that historically have had little or no interaction. The musicians of Okavango have created a common meeting place for these disparate cultures, and a new musical language that harmonizes their different tuning systems, rhythms, and timbres. The multicultural spirit of modern-day Canada bridges ancient African solitudes.
the journey continues..
where it all started: Glenn Gould Studio, February 2011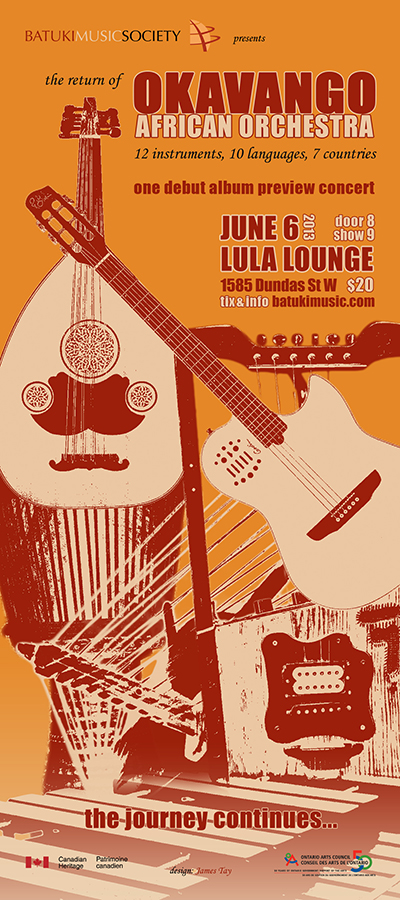 Batuki Music Society gratefully acknowledges the support of Canadian Heritage and the Ontario Arts Council
Batuki Music Society is an incorporated non-profit community-based organization that promotes African music and art through performances at music venues throughout the year and culminating into a weekend festival at the end of the programming season. The organization actively seeks out local artists and works with them by helping find performance venues, advice on career development, music recording, touring and management.
When & Where

Lula Lounge
1585 Dundas Street West
Toronto, Ontario
Canada

Thursday, June 6, 2013 at 9:00 PM
Add to my calendar