Foothills Centennial Centre
#4 204 Community Way, Okotoks Alberta
Hours: 10:00 am to 4:00 pm —  kids activities running all day!
Check out show updates on our FACEBOOK EVENT PAGE
FREE FAMILY PASSES --- Get yours today & be entered in WIN!!! 1 of 8 Family of 4 Day Passes to CALGARY CORN MAZE & FUN PARK! (value $67)

The Okotoks/Foothills FAMILY Lifestyle Show is an annual tradeshow that showcases 50 dynamic local businesses PLUS tons of activities for the kids!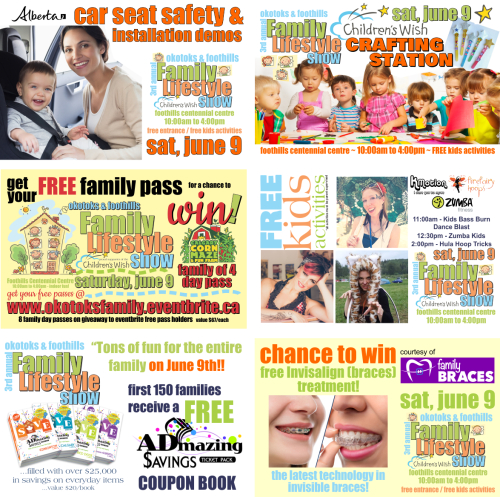 ******* FREE KIDS ACTIVITIES!

- KIDSBASEBURN DANCE BLAST – activity starts at 11:00am --- facilitated by Karen Berry with Kmotion Dance & Move

- ZUMBA KIDS – activity starts at 12:30pm --- facilitated by Tamara Boivin with Zumba Fitness

- HULA HOOP TRICKS – activity starts at 2:00pm --- facilitated by Firefairy (Lori Bothwell) with Firefairy Hoops

- KIDS CRAFTING STATION -- activity runs all day --- facilitated by the Children's Wish Foundation

******* LIVE DEMOS
- CAR SEAT & SAFETY DEMOS running all day
- Hula Hoop Making
- Free mini massages

******* SWAG BAGS!!

First 200 families to arrive receive a juicy SWAG BAG inclusive of:

- an ADMazing Family Coupon Book ...filled with over $25,000 in savings on everyday items for the entire family! ...value $20/book

- NEW MOM'S kit - courtesy of Baby Brands International

- tons of more valuable items!

****
Interested in exhibiting? Contact Opulence Alliance Events at 
403 608-3710 or email director@opulencealliance.com