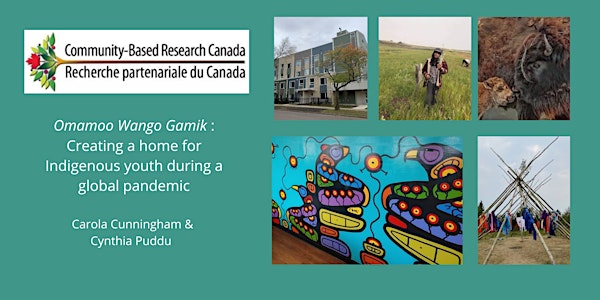 Omamoo Wango Gamik : Creating a home for Indigenous youth
Join a CBRCanada webinar on an Indigenous-led program to end homelessness for Indigenous youth
By Community-Based Research Canada
When and where
Date and time
Thu, Mar 17, 2022 9:00 AM - 10:00 AM PDT
About this event
Omamoo Wango Gamik : Creating a home for Indigenous youth during a global pandemic
Thursday, Mar. 17 2022, 12:00-1:00pm EST
Unlike most housing programs that focus on the physical structure as the solution to ending homelessness, Indigenous-led programs move away from the settler-colonial definition of homelessness. This webinar will discuss the importance of focusing on Indigenous people's spiritual reconnection to their Indigenous identity which involves a relationship to all living creatures, land, culture, languages, ceremony, family and all our relations as an effective strategy for preventing Indigenous youth homelessness. Presenters will also describe the challenges of doing community-based research during COVID-19 and the challenges of assisting Indigenous youth in reconnecting with their ancestry, culture, and the land.
Bios:
Carola Cunningham: CEO Niginan Housing Ventures
Dr. Carola Cunningham has over 40 years of experience in education, justice, community health and wellness and addictions recovery. She has designed developed and delivered programs tailored to the needs of Indigenous communities. She possesses first hand knowledge of the complexities and diversities of Indigenous peoples in Canada. In November 2021, Carola was awarded an honorary doctorate by MacEwan University to honor her achievements as a community builder which embody the university's values.
Cynthia Puddu: Assistant Professor MacEwan University
Dr. Cynthia Puddu is a Community-based researcher focusing on youth homelessness and structural barriers to housing. Using community-based participatory research methods, she works closely with unhoused youth in Edmonton, sharing their stories of difficulty and success. Cynthia is interested in using her research to work as an ally and advocate for populations that have been historically silenced.
The CBRCanada webinar is part of a 8 part series: Community-Based Research & COVID-19: Addressing Widening Inequities and Amplifying Community-based Visions for Change.
A zoom link will be sent out by email prior to the event via eventbrite. If you do not receive the link, access will also be available on the eventbrite platform. Use the email you registered with to login. For questions, please email sarah.s@communitybasedresearch.ca in advance of the event.
We hope to see you there!
The CBRCanada Team
***This event is for CBRCanada members only. If you are employed, studying, or affiliated with any CBRCanada member institution, you are already considered a member. If you are unsure if your institution is covered, learn more here. Individuals whose institution is not on this list are welcome to register as an an individual member. We value community participation and have a free membership option for registered community mobilizers.