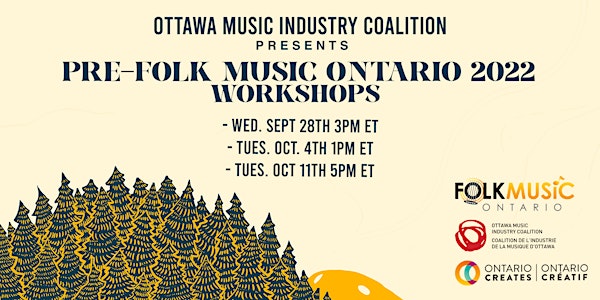 OMIC x FMO Pre-Conference Workshops
Join us for 3 panels to prep you for FMO and any other music conference! | Le Français suit ci-dessous !
About this event
Folk Music Ontario's annual conference is the largest provincial networking event devoted to the folk, roots, and traditional music community. For over three decades Folk Music Ontario has contributed to the growth of Ontario (and Canada's) Folk scene. We know that conferences can be daunting, whether you're new to conferencing or have been at it for years. That's why OMIC, in partnership with FMO, is proud to present a 3 part series of pre-FMO workshops! Join us for an informative series about packing, self-care, and building relationships. These helpful tips apply to any sort of conference and network events, so if you're not a folk musician, don't worry! These tips may be useful to you anyways. Find out more below!
Workshop 1: Conference Packing Checklist for Artists - with Amanda Rheaume
Wednesday, September 28th, 3:00PM
Packing for a conference can be overwhelming so we've made a checklist to ensure you don't forget a thing. From instruments and cables to drive folder links and onesheets, join us for this webinar presented by Amanda Rheaume as we take a 2022 approach to packing for a conference.
Workshop 2: Conference-proofing Your Nervous System - with Cindy Doire
Tuesday, October 4th, 1:00PM
Conferencing, networking, and socializing can be an intense process for our nervous system on a good day, let alone after 2+ years of isolation. Presented by Cindy Doire, this webinar will explore the physiology behind regulating your nervous system and give you practical tools to help you be your best self during the FMO weekend.
Workshop 3: Creating Authentic Connections - with Tara Shannon
Tuesday, October 11th, 5:00 PM
Networking. Like it or lump it, it's a necessary part of conferencing. Whether you are introverted, shy, nervous, extroverted, or excited, join us for this FREE workshop where Tara Shannon will give us tools to building an authentic brand identity and finding genuine connections that will sustain longevity in our careers.
----------------------------------------------------------------------------------------------------
Version française
La conférence annuelle de Folk Music Ontario est le plus grand événement de réseautage provincial consacré à la communauté de la musique folk, roots et traditionnelle. Depuis plus de trois décennies, Folk Music Ontario contribue à la croissance de la scène folk ontarienne (et canadienne). Nous savons que les conférences peuvent être intimidantes, que vous soyez nouveau dans le domaine des conférences ou que vous y soyez depuis des années. C'est pourquoi la CIMO, en partenariat avec FMO, est fière de présenter une série d'ateliers pré-FMO en 3 parties ! Rejoignez-nous pour une série de webinaires sur comment faire ses bagages, les soins personnels et la création de relations. Ces conseils utiles s'appliquent à toutes sortes de conférences et d'événements de réseautage, donc si vous n'êtes pas un musicien folk, ne vous inquiétez pas ! Ces conseils peuvent vous être utiles de toute façon. Découvrez-en plus ci-dessous !
Atelier 1: Conference Packing Checklist for Artists - avec Amanda Rheaume
Mercredi 28 septembre, 15h
Faire ses bagages pour une conférence peut s'avérer stressant, c'est pourquoi nous avons établi une liste complète pour vous aider à ne rien oublier : des instruments aux câbles, aux dossiers numériques et matériaux promotionnels. Assistez à ce webinaire présenté par Amanda Rheaume et adoptez une nouvelle approche pour préparer pour une conférence.
Atelier 2: Conference-proofing Your Nervous System - avec Cindy Doire
Mardi 4 octobre, 13h
Les conférences, le réseautage et les regroupements peuvent représenter un processus intense pour notre système nerveux, surtout après plus de deux ans d'isolement. Présenté par Cindy Doire, ce webinaire explorera la physiologie derrière la régulation de votre système nerveux et vous donnera des outils pratiques pour vous aider à être au sommet de votre forme pendant le week-end du FMO.
Atelier 3: Creating Authentic Connections - avec Tara Shannon
Mardi 11 octobre, 17h
Le réseautage fait partie intégrante des événements/conférences. Que vous soyez introverti, timide, nerveux, extraverti ou enthousiaste, joignez-vous à nous pour cet atelier GRATUIT durant lequel Tara Shannon vous donnera des outils pour construire une image de marque authentique et créer de nouvelles connexions qui assureront la longévité de votre carrière.