Description
Learn the secrets of capturing architecture, nature, and indoor scenes with ease and fluidity. Using basic drawing tools and watercolour paints, students will experiment with mark making and colour block techniques to quickly capture a variety of indoor and outdoor subjects. Emphasis will be placed on keeping drawings loose and rhythmic so as to capture the mood and personality of the setting. This is an excellent workshop for beginners to learn the basics of sketching as well as great refresher for more experienced artists looking to loosen up and put play back into their drawings.
Audience: This workshop is suitable for both beginners with a desire to start sketching or the intermediate artist wishing to develop a regular sketching practice!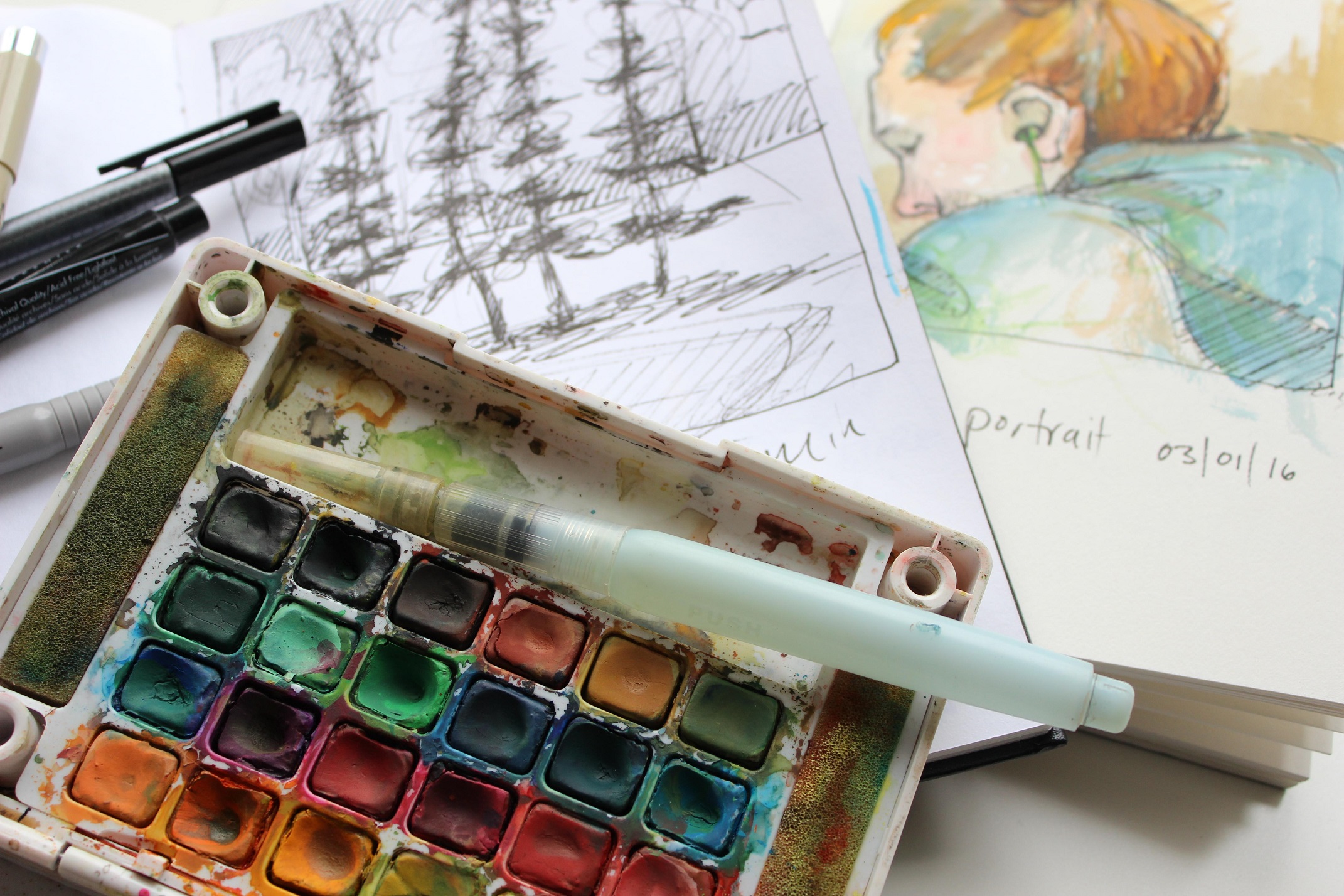 Weather: In case of rain, activities will be performed inside the museum or one of the art studios of the Leighton Art Centre.
Supplies: Supplies included in the workshop fee are watercolour paints, watercolour pencils, and paint brushes. Please bring with you the following supplies:
Brand new Sketchbook 50 - 100 pages, white paper, 5.5" x 8.5" - 8.5" x 11.5" sized, can be spiral or hard bound (student's preference)

1 to 3 different sized tip artist quality fine liner pens (black) - waterproof (suggested brands: Sakura Micron, Staedler, Faber-Castell)

1 to 3 different sized tip artist quality fine liner pens (black) – not water proof (suggested brands: Prismacolour, Pilot)

An assortment of paintbrushes that you already own (smaller ones are preferred)

If you already own watercolour tubes and watercolour pencils, we invite you to bring those with you to permit you to get to know your supplies!

A bag to carry supplies around property (plastic is fine)

Weather appropriate clothing and shoes for sketching outside. Students who require reading glasses to create will want to bring them along.

Students who wish to sit while working outside may bring a fold up stool or chair.

A lunch, snack and water bottle for the day!




Registration cost:  $85 plus GST & Eventbrite Fees* 

* or register by phone: 403-931-3633, Tues-Sat, 10 am – 4 pm to avoid Eventbrite fees 

Registration closes on Thur Aug 8th, 2019 at 9 PM 

For our Cancellation and Refund Policy, please visit www.leightoncentre.org/programs-events/adult-programs.




Artist/Instructor/Guide

Michelle Wiebe is a Cochrane, Alberta-based artist focused primarily on painting, printmaking and letterpress. Regularly found on sketching trips in the Calgary area, her drawing adventures have taken her as far away as Eastern Europe, the Mediterranean and Africa. Michelle is a passionate instructor with a deep love for teaching and she makes it her goal that students leave her class with quality work and the confidence to continue building their new skills.

Facebook: Michelle Wiebe Art

Twitter: Michelle_Wiebe

Instagram: mw.artco