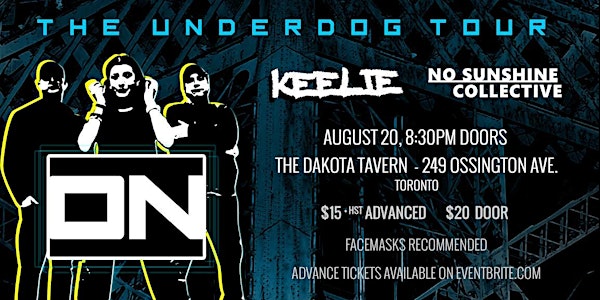 ON with Keelie & No Sunshine Collective
ON with Keelie & No Sunshine Collective (DOORS 8:30PM)
When and where
Location
The Dakota Tavern 249 Ossington Avenue Toronto, ON M6J 3A1 Canada
About this event
*PLEASE READ GUIDELINES BEFORE PURCHASING YOUR TICKETS*
- Masks recommended.
- This event is General Admission.
- Social distancing is no longer in effect.
- This event is 19+
- No refunds.
ON:
on is a sonic guitar-based landscape centered around the undeniable chemistry of its core members featuring Lucy Di Santo (vocals, bass), Dan Cornelius (drums), and Steve Fall (guitars). Well-crafted songs with an attention to arrangement, groove and performance a la carte, on sets its sights with a global reach connecting with an audience that seeks out impactful and genre-defying music.
Always pushing forward with an eye in the rear-view mirror, on pays homage to its roots in classic post-punk, new wave, old-school funk and timeless classic rock n' roll. Veterans of the Toronto music scene, on's members previously spent time with popular 90's outfits Acid Test, Danko Jones and Rocket Science. The band continued to stay active as the members' side project through the 90's and
2000's. Previous tours included US, Mexico, and Canada at two consecutive Edgefest performances at Molson Park, Barrie, Ontario. Recordings are found on various CFNY and CMW New Music Compilations, as well as a limited cassette tape release in Mexico with label Opcion Sonica with sales of over 6,000 in one weekend at an open-air market in Mexico City.
Toronto is still home for Di Santo and Fall, while Cornelius currently resides in NYC. The trio collaborated and wrote material in Toronto and New York City, culminating with pre-production recording in Fort Meyers in the winter of 2021 at the Star Sound Studios with Drew Howard.
Currently the group is working out of Phase One Studios with Darius Szczepaniak for the Spring of 2022, putting the finishing touches on its sophomore indie release.
ON IG:
https://www.instagram.com/o.n.music/
@o.n.music
KEELIE:
• Oxford Dictionaries - A disreputable inhabitant of a town or city, especially one from Glasgow.
Origin - Early 19th century: perhaps related to gillie.
• Collins English Dictionary - 1. a kestrel 2. an urban ruffian; lower-class town or city dweller, esp Glaswegian
Keelie are a Toronto, Ontario, Canada based trio writing, recording and performing a mix of Hardcore, Crossover, Alternative and Punk Rock. Comprised of Michael S. Childs (Drums), Andrew McCready (Bass/Vox), Mark Watts (Vox/Guitar). Formed in the fall of 2015 they have independently released 2 albums, Exit Bag (November 2016) and most recently American Epitaph (October 2017). Having been through many lineups since forming the band, they have now settled into a trio format.
Keelie perform regularly in their home city of Toronto, Canada and other cities and towns around the province of Ontario, gathering new interest quickly at the various places and venues they bring their live show to.
Keelie's direction, so far, regarding the facilitation of their music and live shows, is releasing fully produced music across their social network (instagram, facebook, twitter, bandcamp), for free, for everyone. This gives them a direct link to new ears, people and potential fans while creating original and unique content at a rapid pace for any and all interested.
To free stream or purchase Keelie's existing catalog and download and stream all our new music for free please go to https://keelie.bandcamp.com/
Check Keelie out on these platforms
•Instagram - @keelieto
•Facebook - @keelieto
•Twitter - @KeelieTO
NO SUNSHINE COLLECTIVE:
No Sunshine Collective is a three piece power trio hailing from Toronto, Ontario.
The trio consists of lead vocals and guitarist Steve Colucci, bassist and backup vocalist/dedicated screamer guy Nathan Colucci and the powerhouse behind the drums is Matt Bellissimo.
No Sunshine Collective's music is a blend of styles and influences including elements of punk, rock, pop and hardcore. The songs they play are songs about life and are inspired by events and experiences from it.
The band released their first single entitled "Crash Myself Into You" in December 2021. The follow up single "Goodbye Forever" is out everywhere as of Feb 14th 2022 along with a cheeky music video which you can find on their YouTube channel. The band is currently playing local shows in the GTA and is set to head out on their first tour starting in Toronto and making stops to play shows in Ottawa and Montreal . Their live show has quickly made them a headliner band locally.
Much much more to come.