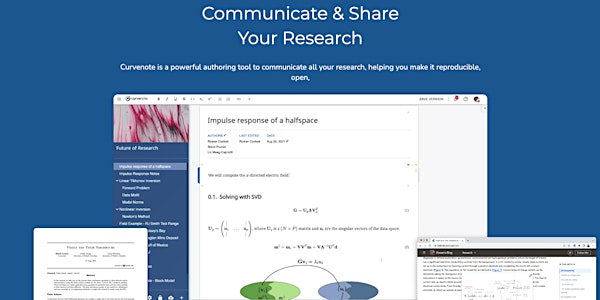 One click online publishing for open science projects
Learn how to publish open science papers and materials as impactful interactive websites quickly and easily
About this event
Communicating science and research openly means preparing material to publish in different places; MS Word documents for collaborators, latex and PDF manuscripts for submission to conferences, journals, and preprint services, and ultimately HTML-based versions of your work for publication online with open access licenses.
Curvenote gives you a central place and a set of tools to both make that process much easier and allow you to communicate with rich and interactive material.
You can choose to work in an online editor built for scientific writing or in Markdown on your local machine, and you can collaborate with others who choose to work differently. Save, share and iterate on notebooks as well as manuscripts and export all of this work to documents or publish it on the web.
Recently, we introduced a way to publish to the web from your local machine using the open source Curvenote command line tool. Now we've made this even easier, so you and your collaborators can publish directly from your web browser, via an online application.
In this webinar, we'll take a close look at this new single-click publishing ability, including:
Publishing a new website from a private Curvenote project
Configuration options including licensing, DOIs, journal-like page headers and binder links
Working with others to write content for the website
Publishing and maintaining a website for a lab group or journal
Publishing to custom domains and integrating with an existing website