One Day on Earth: Adventures of a Mongolian Globetrotter - Amai

Friday, 24 April 2015 from 6:00 PM to 9:00 PM (EDT)
Event Details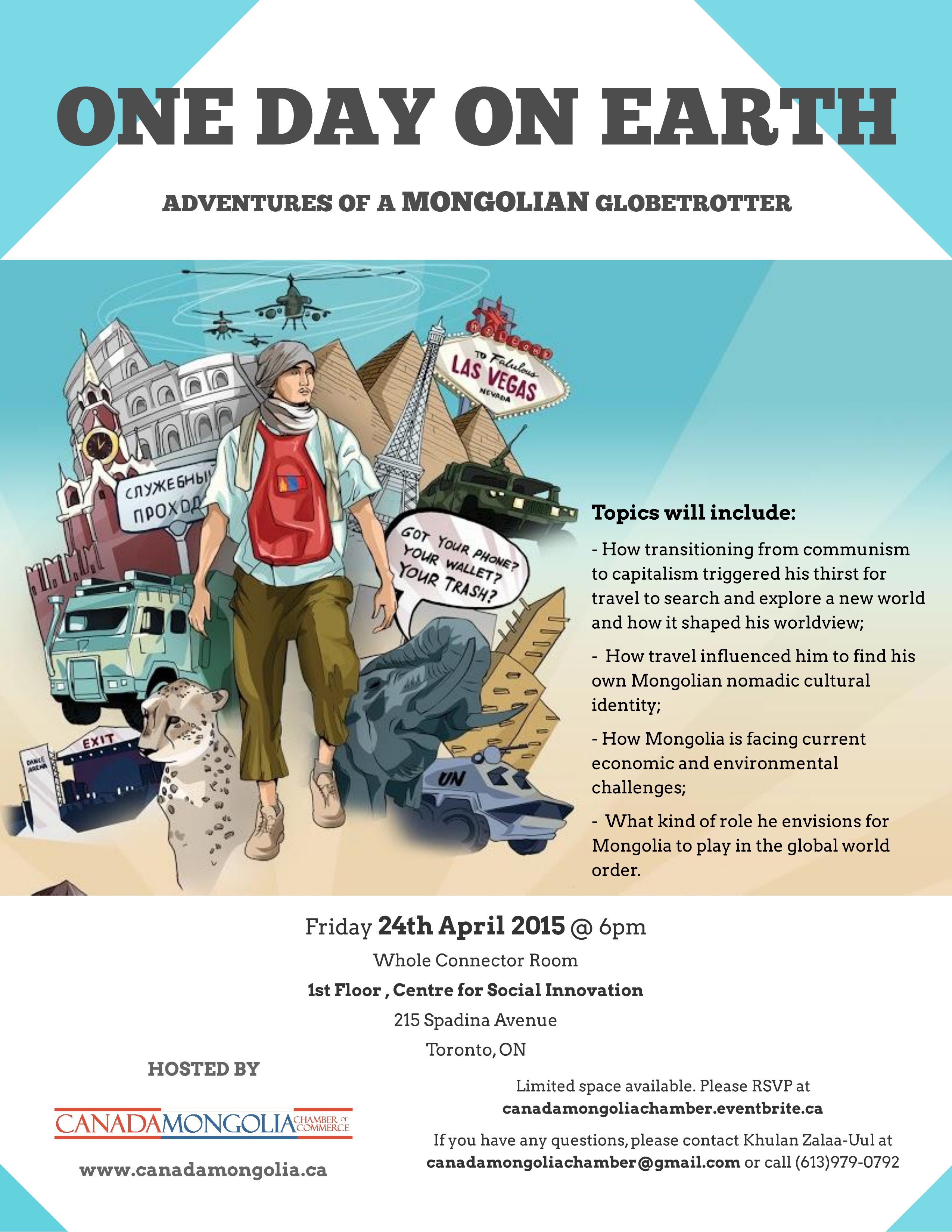 Title: "One Day on Earth: Adventures of a Mongolian Globetrotter" 
When: Friday April 24th, 2015 @ 6PM
Where: Whole Connector Room - 1st Floor, Centre for Social Innovation, 215 Spadina Avenue, Toronto, ON

Who: Jambalsurens son Zolbayar AKA Amai. A world traveler who's visited 86 countries over 9 years.
A Mongolian Globetrotter, Jambalsuren Zolbayar AKA Amai would like to speak to Torontonians of diverse cultures and backgrounds in order to share his stories from a very unique perspective, that of a Mongolian nomadic civilization. He will share pictures from his travels to 85 countries in 9 years and now to Canada, the 86th. Overall, he will discuss his take on the meaning of life, his beliefs and people of the world.
Topics will include:
How transitioning from communism to capitalism triggered his thirst for travel to search and explore a new world and how it shaped his worldview;  

How travel influenced him to find his own Mongolian nomadic cultural identity;

How Mongolia is facing current economic and environmental challenges; and

What kind of role he envisions for Mongolia to play in the global world order. 
At the conclusion of his discussion, Amai will include a performance of "Khoomii", Mongolia's traditional throat singing.
The event is open to the public and as there is limited space available, please RSVP!
If you have any questions, please contact Khulan Zalaa-Uul at canadamongoliachamber@gmail.com or call (613)979-0792
Hosted by Canada Mongolia Chamber of Commerce
Short Biography of Amai
Zolbayar Jambalsuren, commonly known as Amai (his artist name) was born on June 28th, 1979 in Ulaanbaatar, Mongolia. He studied at the Mongolian National University where he graduated with a Bachelor of Foreign Affairs in Japanese Studies. Soon after, he enrolled in the Academy of Business and Administration of Mongolia and the Mongolian University of Culture. He irrevocably values Mongolian music and culture, its uniqueness and beauty. Since November 4th, 2005 until May 16th, 2010, he visited 69 countries and spent 1665 days on the road. Last year he travelled to North & Central America and reached 86 countries.
Amai has been honored as a "hero of the youth" by the public and received the honorary "Medal of Friendship" by the Union of Peace and Friendship, the highest academic medal "Khublai Khaan" by the Academy of Science and Technology of Mongolia and his writings received the highest nomination in 2011 by the Mongolian Journalist Association. Also, the Academy of Foreign Studies awarded Amai the title of "Professor of Foreign Studies". Amai wrote and published "Amazing World" and "Life is beautiful" which are both narratives about his travels and his inner journey.
Amai is a committed traveler, militating against global warming and standing up for the respect and love of the Earth, which is represented by Mother God in the Mongolian traditional belief of Tengriism.
About Amai's travels: http://www.amai.mn/archives/3765
Amai's website: www.amai.mn 
Jambalsuren's son Zolbayar AKA "Amai"
Amai Mongol
Adventurer & Mongolian Globetrotter
When & Where

Centre for Social Innovation
215 Spadina Avenue
1st Floor, Whole Connector Room
Toronto, ON M5T 2C7
Canada

Friday, 24 April 2015 from 6:00 PM to 9:00 PM (EDT)
Add to my calendar
Organizer
Who We Are
Canada Mongolia Chamber of Commerce (CMCC) represents the next generation of leaders in Canada and Mongolia.  We are approachable & engaging, innovative & unique, young & diverse, and most importantly, an inclusive group of individuals, entrepreneurs, benefit corporations, for-profit corporations, non-profits, and educators.  

Encompassing value systems that encourage circular & sustainable economic systems, CMCC strives to promote strong foundations between companies and businesses that are engaged in building strong, healthy and sustainable communities.

We are building a Community of Mentors, Collaborators & Contributors. 
What We Do
A Community of Mentors, Collaborators & Contributors aims to promote both Mongolian and Canadian business cultures as well as business relations between these two nations.  By engaging businesses of all sizes, from small to large, CMCC endeavours to provide a platform and forum for sustainable business development.  A platform of fair business interaction requires diplomacy and CMCC bridges that divide between Canada and Mongolia.  
Diplomacy doesn't only start with top government officials and big business; it is about the people, communities, and traditions that created these two nations.  CMCC is the voice of interaction between businesses, communities, and leaders.  We provide consultancy services on how best to enter new markets, provide representation in both countries, conduct business partner searches, and most importantly, we offer market research and trade fair participation on behalf of individuals, non-profits, associations, businesses and governments. 
Our services include: 
- strategic planning for corporations, SMEs and NFPs;
- business development consultancy services;
- community development projects.