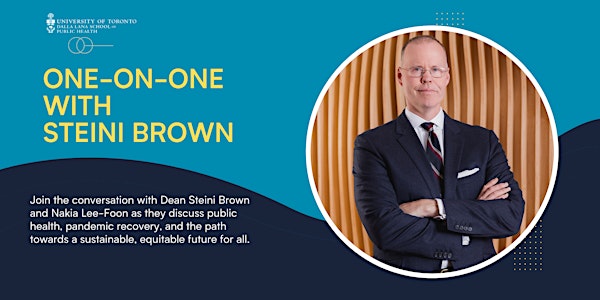 One on One with Steini Brown: Towards a Sustainable Recovery
Join Dean Steini Brown for a conversation on pandemic recovery, resilience, and building a more equitable and sustainable future for all.
About this event
Join us for a no holds barred conversation with Dean Steini Brown and alumna Nakia Lee-Foon PhD '21 on all things public health!
The two will discuss how we can best recover from COVID-19 in an environmentally sustainable way, climate change and health care, and the path forward to a healthier, more equitable world for all.
Following this conversation, attendees will have an opportunity to ask Dean Steini Brown topical questions.
We hope to see you there!
***
One on One with Steini will take place over Zoom on Wednesday, September 21st from 12:00 p.m. – 1:00 p.m. This event is hosted by the Dalla Lana School of Public Health's Office of Advancement & Alumni Engagement. Contact advancement.dlsph@utoronto.ca for any inquiries.
Adalsteinn (Steini) Brown is the Dean of the Dalla Lana School of Public Health (DLSPH) at the University of Toronto. Steini is well known for his expertise in evidence-informed policy making, health-care quality improvement, performance management, leadership and health systems capacity-building and strategy. Steini is currently co-chair of the Ontario COVID-19 Science Advisory Table, a group of scientific experts and health system leaders who evaluate and report on emerging evidence relevant to the COVID-19 pandemic and Ontario's response. He has been working collaboratively with the Premier and Cabinet on resilience and recovery measures and efforts.
Nakia Lee-Foon holds a PhD in the Social and Behavioural Health Sciences stream from the Dalla Lana School of Public Health (DLSPH), University of Toronto. Nakia conducted research as a postdoctoral fellow at the DLSPH focused on understanding how equity informs healthcare policies, quality, performance, delivery, resource distribution and patient outcomes.