Sales Have Ended
Registrations are closed
We look forward to having you join us on Saturday, August 21st for this Virtual Conference. We have some wonderful speakers set up to speak with you that day - please don't hesitate to let family and friends know about this opportunity.
The Toronto Ontario Stake of The Church of Jesus Christ of Latter-Day Saints will host One World One Family 2021 for the first time online.
About this event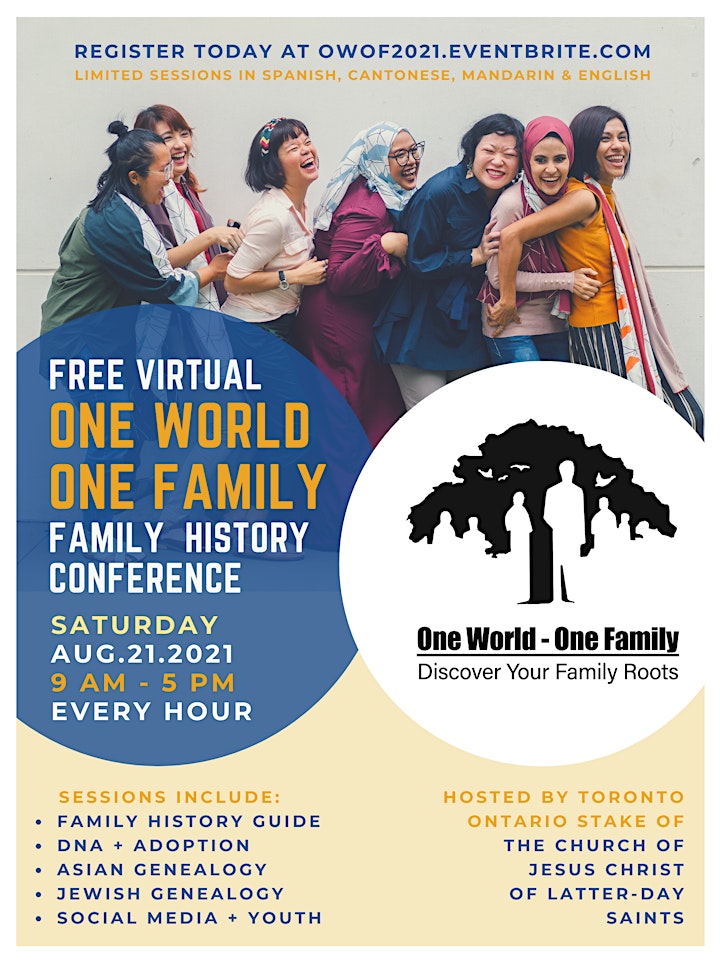 FREE Virtual Family History Conference with hourly workshops presented throughout the day on a variety of topics for all levels.
For the first time, One World One Family will be held fully online for 2021. All sessions will run on Zoom with a new session on the hour.
SCHEDULE FOR THE DAY:
9:00 AM - 'I am Adopted - How Do I Use DNA to find my Biological Parents?' presented by David Ouimette, a certified Genealogist from FamilySearch.
Hundreds of your ancestors left their imprint within you. You received half your DNA from each biological parent. Your biological cousins share some of your DNA, and they have family trees! Learn how DNA testing and cousin matches can guide you to your biological parents.
10:00 AM - 'Introduction to the Family History Guide' presented by Bob Taylor, the creator of the Family History Guide.
The Family History Guide is a free learning, research, and training centre for genealogy created by Bob Taylor, who will walk you through getting started on it.
11:00 AM - '¿Cuáles son los beneficios de utilizar FamilySearch?' or 'What are the benefits of using FamilySearch?' presented in Spanish by Manuel Sanueza from FamilySearch. English translation will be provided.
Dentro de esta presentación veremos los diferentes beneficios de trabajar con FamilySearch. También examinaremos algunas de las herramientas que nos pueden ayudar con la investigación genealógica.
During this presentation, we will see the different benefits of working with FamilySearch. We will also be taking a look at some of the tools that can help us with our genealogy.
12:00pm - The Christmas Catalog for Genealogy presented by Lianne Krüger, a professional genealogist and speaker specializing in Canada and homesteading for U.S. & Canada .
Do you remember the Christmas Catalog where all the toys a kid could want were shown? The FamilySearch catalog is the Christmas Catalog for genealogists. In this session we will take a trip through FamilySearch's Catalog to learn what it is, how it can help you with your genealogical research, how to search using the six different categories, the different types of records, what all the icons represent, and explain why you want to have a free FamilySearch account.
1:00 PM - 'Using Technology to Organize your Research' presented by Miles Meyer, a Certified Trainer and multiple-time RootsTech presenter.
This presentation will focus on ways to use today's technology to organize your genealogy information to ensure that it is easy to find and makes your research productive. We will talk about research logs, photo and record storage, cloud storage, facial recognition and other current technologies that can help you be more organized.
2:00 PM - 'Ways to use Social Media for Family History' presented by Angelle and Scott Anderson. The presentation will be targeted towards youth and young adults but all are welcome to attend.
A presentation for youth and young adults exploring ways they can use social media and technology to get involved with Family History.
3:00 PM - 'Asian Genealogy: An Overview of Resources and Records' presented by professional genealogist Dani Edgar. Mandarin and Cantonese translation will be provided.
This class will highlight case studies in China, Thailand, Vietnam, Nepal, and San Francisco to explore the various resources and records available for Asian family history research.
4:00 PM - Insights to Tracing your Jewish Roots: An Introduction to Genealogy presented by Jerry Scherer, the son of Holocaust survivors and the Vice-President of communications at the Jewish Genealogical Society of Toronto.
IN THE BEGINNING… "Remember the days of old, consider the years of many generations". (Deut. 32:7). Discovering the stories of one's ancestors is what genealogy is all about. By preserving your past, you will be honoring your parents (Exodus 20:12) and be leaving a legacy for future generations. Jerry Scherer will introduce the basics of Jewish Genealogical research by showing how the Genealogical Proof Standard is applied to genealogy. Next, he will share his genealogical and DNA stories that will hopefully inspire you to trace your roots.