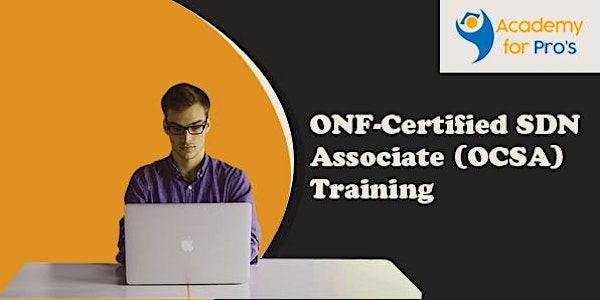 ONF-Certified SDN Associate (OCSA) Training in Monterrey
Our classroom training provides you the opportunity to interact with instructors and benefit from face-to-face instruction.
When and where
Location
For venue details reach us at: info@academyforpros.com Monterrey, NLE 64650 Mexico
Refund Policy
Refunds up to 7 days before event
About this event
Certificate: Course Completion Certificate Language: English
Duration: 1 Day Credits: 8
Course Delivery: Classroom/ Virtual Live/ On-Site
Course Description:
This is a 1-day class that covers the basics of Software Defined Networking (SDN). It is ideal for a beginner audience that wants to obtain an overview of the concepts, definitions and open source initiatives in the SDN arena. It has 75% lecture and 25% lab and is aimed at preparing participants for the Open Networking Foundation (ONF) SDN Associate exam.
Course Outline:
Module 1: Introduction
Personal Introductions
ONF Certification Overview
Module 2: Definitions and Standards
Problems in Networking (that SDN can help solve)
Making the case for SDN-SDN Flavors
Module 3: OpenFlow
What is OpenFlow
How does OpenFlow work of-config
SDN Related Technologies
SDN Standards Organizations
Module 4: Use Cases
Data center/Enterprise
WAN
Transport Networks
Module 5: Migration Strategies
Framework
Migration Approaches
Devices and Deployments
Planning
Module 6: Security, the ONF and Controller placement
Security and Availability
Overview of the ONF Organization
Controller Placement
Module 7: SDN Open Source Overview
Open Source Controllers
Other Open Source Initiatives
Target Audience:
This course is aimed at beginners who want to grasp basic SDN concepts.
Learning Objectives:
At the end of this course, the participants will be able to:
Identify SDN concepts and architecture as put forth by the Open Networking Foundation.
Understand the workings of OpenFlow.
Gain insight into SDN use-cases and migration strategies.
Understand the ONF as an organization and identify open source initiatives.
Gain valuable hands-on experience with a Mininet network and the Floodlight Controller.
Course Agenda:
Day 1
Introduction
Definitions and Standards
Open Flow
Use Cases
Migration Strategies
Security, the ONF and Controller placement
SDN Open Source
Exam Topic
Checklist
Note:
However, catering to the demands of busy professionals, our virtual training programs are as effective as face-to-face learning. Reach us at info@academyforpros.com for dates and details of Instructor Led Live Virtual Session.
If you would like to get this course customized and delivered exclusively for your group, we have an On-Site Training Option you can reach us at info@academyforpros.com for more details about on-site or corporate training.
Offers:
Groups of 3 people 10% Discount
Groups of 5 people 15% Discount
Groups of 10 people 20% Discount