Description
Ideal participant: Individuals working in or interested in online marketing and advertising.
Key benefit to participating: Gain a better understanding of online advertising trends and tactics and how to apply them in business settings.
---
Data Nerds CEO, Josh Fraser, will be walking attendees through the basics of online advertising using platforms such as google, bing, facebook, and Yahoo. Come check out this session to learn more about how to effectively use online tools to advertise to your market as well as to learn about Josh's experience navigating the world of online advertising.

After the presentation, you will have time to eat some pizza and ask Josh some questions.


A little bit about the presenter: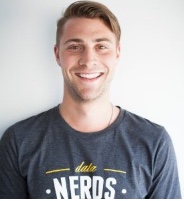 In 2010, Josh Fraser found his passion for pay-per-click marketing. Three years later he became founder and CEO of Data Nerds, a Kelowna based tech company specializing in providing an elegant solution in the vast market of real estate and property data.
Josh is Adwords and Analytics Certified and has 5+ years of experience in the advertising space, spending $20 million in that area during that time. In addition to his experince he has also teamed up with Premier Google Partner, Zebra Advertisement.
This event is brought to you by Accelerate Okanagan.