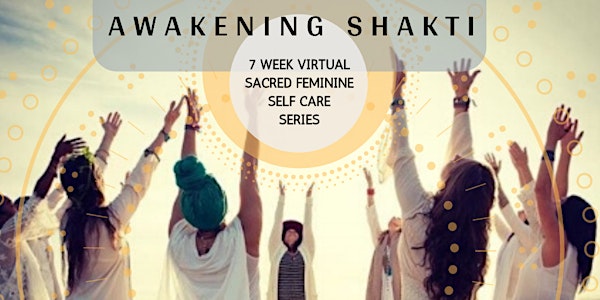 Online: Awakening Shakti 7 week Woman's Temple Series
Join The Nourished Woman community in a 7 week immersion embodying the Divine Feminine and learning sacred self-care.
Refund Policy
Contact the organizer to request a refund.
Eventbrite's fee is nonrefundable.
About this event
"The women's circle is a portal calling us to enter a deeper and more intimate, direct connection with who we are and what we are made of"
~ Chameli Ardagh
Sisters, are you ready for a soft place to land? 𝑨 𝒔𝒂𝒏𝒄𝒕𝒖𝒂𝒓𝒚 𝒔𝒑𝒂𝒄𝒆 𝒕𝒐 𝒃𝒓𝒆𝒂𝒕𝒉𝒆, 𝒓𝒆𝒔𝒕 𝒂𝒏𝒅 𝒔𝒉𝒂𝒓𝒆 𝒘𝒊𝒔𝒅𝒐𝒎 with other like-minded women? A temple of serenity, safety & reconnecting to our senses, and sensuality? A place to ground and root as women, a place to gain clarity and inner peace?
In woman's temple, we reconnect to the 𝑫𝒆𝒆𝒑 𝑭𝒆𝒎𝒊𝒏𝒊𝒏𝒆-- to our Intuition, our softness and our flow- the river under the river. Break out of analysis paralysis and come into the deeper knowing of the body, breath, Earth and this growing community of Nourished Women.
I warmly invite to our first class of Awakening Shakti: 7 week Virtual Feminine Self-Care Journey, on Thursday September 10 , 𝐚𝐭 𝟕𝐩𝐦-𝟖𝟑𝟎𝐩𝐦 𝐏𝐒𝐓, on a private Zoom Call. This first class of 7 we are focusing on establishing foundation within ourselves with the Indian goddess archetype of Durga , embodying our roots, and our inner tree nature.
In this 1.5 hour session, we will be using ancient Indian tantric ( Arkaya) and yogini temple practices to breathe, soften, and come into the wisdom of the body as a group. This will follow with some more guided grounding and rooting practices, and close with a group wisdom sharing circle.
The first class is powerful marking, as we will set intentions ( Sankalpa) as a group, and also create our Divine Feminine altars that will guide this 7 week journey.
A total of 3 live calls will take place ( if you miss it, a recording will be emailed to you)
- Root: September 10
- Heart: October 1
- Crown: October 22
The remaining weeks in between, you will receive intimate, guided recorded audio meditations and penetrating journaling questions , to help you embody these ancient feminine codes of empowerment + practice on your own during the week.
These series are powerful and not be missed! When women come together this way, we nourish ourselves in the deepest way possible. We tap into a collective field of feminine wisdom and embodiment. In circles that gathered just like this together. long long ago.
**Register by email to : abneetsandhar@gmail.com and I will send you the welcome email and zoom link for the 3 live calls.
***Etransfer works best if you are Canadian-- if you are using credit card or are international, use the Eventbrite ticket function here.
Total 7 week workshop series investment is $333 CDN , Early bird of $297 before Aug 20, 2020.
This is our 4th year holding these series both online and in-person, and we are SO excited + elated to welcome you into this portal, as we ride out into 2020.
This sacred virtual container is set at a maximum of 30 women at this time.
WHAT SHE SAID:
" I highly recommend doing work with Abneet if you interested in deepening your connection with yourself. She is in touch with her own feminine fire to a level that I now aspire to join. I feel hungry to be an embodied woman just be being in her presence. I felt it the first time I met her... I didn't realize how disconnected from my own fire I had become, until I saw how connected she was to hers--THAT is why we must shine brightly from our hearts, to remind the ones that are stuck to reach for their own flame and stoke it! Abneet is helping me fuel the fire again. And it is getting warm, on it's way to hot. Thank you "
-- Clairity ♥
" The Awakening Shakti series is a wonderful and beautiful series that helps women get in touch with their feminine energy, find their voice and strength, boost their confidence, and share space with other lovely women/sisters. This is the first time I've taken part in a spiritual course and I am really happy I had the opportunity to complete the series. After Awakening Shakti, I feel more confident in myself and I've discovered my voice again-- I'm not afraid to stand up for myself anymore. I feel more at peace and connected to my higher self. Abby is amazing at what she does and really knows how to create a warm, loving space for women to come together and feel safe to express herself, and take part in practises that allow them to grow and become stronger, more confident beings. I definitely recommend this series, or any series with Abby, to all women! "
-- Kansas ♥
" For me, it is been such a gift to have the opportunity to talk about women's process related to our sexuality, sensuality and how just speaking out my thoughts and experiences in a very healthy and protected environment could be a way to heal whatever is happening in our lives. Thank you Abneet for holding this space for us. It is a human right to connect with people who help us align with the cycle of life!
— Claudia
~~~~~~~~~~~~~~~~~ * ~~~~~~~~~~~~~~~~~
So looking forward to connecting with you in Woman's Temple.
Share, and join with a friend.
xoxo
Abneet Kaur Sandhar
To get a taste of this feminine deepening journey and practice with us, listen to Abneet's latest podcast interview with Angela Caruk of "Shakti Stories" here.