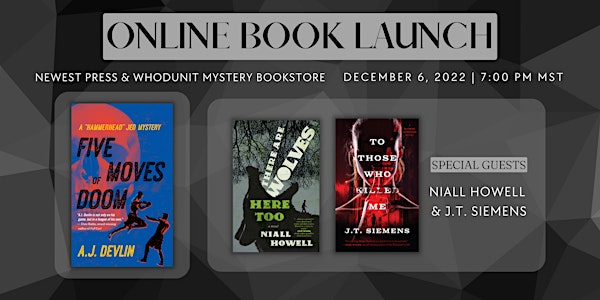 Online Book Launch: Five Moves of Doom by A.J. Devlin
Join us in celebrating the launch of A.J. Devlin's Five Moves of Doom, alongside special guest readers, Niall Howell and J.T. Siemens.
About this event
We're excited to team up with Whodunit Mystery Bookstore to celebrate A.J. Devlin's new book, Five Moves of Doom! Join us via on December 6, 2022 at 7:00 pm MST to listen to readings from A.J. as well as special guests, Niall Howell and J.T. Siemens. NeWest Press General Manager, Matt Bowes, will moderated a discussion with the authors about their writing process, their love of mysteries, and so much more.
Tune in for a lovely evening of readings, book chats, and a Q&A.
Register to attend! It is free and open to all.
About A.J. Devlin
A.J. Devlin grew up in Greater Vancouver before moving to Southern California where he earned a Bachelor of Fine Arts in Screenwriting from Chapman University and a Master of Fine Arts in Screenwriting from The American Film Institute. After working as a screenwriter in Hollywood, he moved back home to Port Moody, BC, where he now lives with his wife and two children.
Cobra Clutch, the first book in the "Hammerhead" Jed professional wrestling mystery-comedy series, was released in spring 2018 and nominated for a Lefty Award for Best Debut Mystery and won the 2019 Crime Writers of Canada Arthur Ellis Award for Best First Novel. The sequel, Rolling Thunder, was released in spring 2020 and was featured in the Vancouver Sun, The Province, The Globe and Mail, Kirkus Reviews, and Library Journal, and on CBC The Next Chapter.
The third book in the series, Five Moves of Doom, will be published in fall 2022. For more information on A.J. and his books, please visit ajdevlin.com.
About Five Moves of Doom
Hired by local mixed martial arts trainer Elijah Lennox to find a missing UFC Championship belt, pro-wrestler PI "Hammerhead" Jed must extract answers from the tight-knit MMA community. Still consuming his weight in banana milkshakes, Jed ventures into a world of jewel thieves, bodybuilders, eccentric yoga enthusiasts, and adorable baby goats. As he infiltrates an exclusive and unique no-holds-barred fight club, Jed might just find himself down for the count …
Five Moves of Doom is a high-altitude and high-attitude entry in A.J. Devlin's award-winning mystery series, one that finds its hero pushed to his absolute limit, relying on his closest allies to survive, and making choices he never thought he'd have to make.
About Niall Howell
Niall Howell lives in Calgary, Alberta with his wife, son, and pets. His debut noir novel Only Pretty Damned was shortlisted for the Kobo Emerging Writer Prize for Literary Fiction and is a part of the Nunatak First Fiction Series. His second novel, There Are Wolves Here Too, will be released fall 2022. His short fiction has been featured in The Feathertale Review and FreeFall. He can be found on Twitter @niall_howell.
About There Are Wolves Here Too
Spilt blood whets the appetite of a ravine at the heart of Haddington Springs, a bedroom community with a closet full of bones.
It's 1997, and Robin and his two best friends, Steph and Dylan, are ready to dive into their first summer as teenagers. But when Catherine, a classmate's younger sister, disappears, Robin finds his carefree life of mall arcades, soccer, and slasher movies swapped out for one of paranoia, guilt, and confusion. While parents form search parties and police chase vaporous leads, Robin becomes convinced that there is a darker element at play, one that he might have accidentally set loose. All the while, he is trying to figure out his changing relationships, growing closer to Steph as his friendship with Dylan is increasingly marred by mercurial moods and secrets. Delving into the most awkward and bewildering time of adolescence, Niall Howell's There Are Wolves Here Too blends coming of age with noir and horror elements as we move with Robin through the difficulties of learning who to trust and when to trust yourself.
About J.T. Siemens
J.T. Siemens grew up in Vernon, BC, and moved to Vancouver to pursue a career as a personal trainer. A longstanding love of books and movies led him to study screenwriting and creative writing, and he has been published in Mystery Weekly, Down in the Dirt, CC&D, and Vancouver Magazine.
After a murder occurred outside his workplace, he was inspired to write a novel, To Those Who Killed Me, which was nominated for the Arthur Ellis Unhanged Award. The novel introduces the character of Sloane Donovan and is the first in a series about a bipolar ex-cop turned PI. He recently completed the second Sloane Donovan novel, The Call of the Void. He lives in Vancouver's West End with his girlfriend and two cats.
About To Those Who Killed Me
Disgraced ex-cop Sloane Donovan has relied on her job as a fitness instructor to keep her mental illness and PTSD in check—until she finds a close friend dead, apparently by her own hand. Obsessive demons triggered and doubtful of the official narrative, she teams up with Wayne Capson, a PI willing to bend the law, to find out who really killed her friend. The search leads Sloane from Vancouver's wealthiest enclaves to the street's darkest corners, questioning millionaires, tennis instructors, sex workers, former police colleagues—anyone who might provide answers.J.T. Siemens's To Those Who Killed Me is a debut that provides a heavy dose of hardboiled suspense and introduces a fiery new heroine in crime fiction.