Online Community Engagement Session - Connecting the Dots - Séance D'engagement Communautaire En Ligne

Tuesday, 27 August 2019 from 7:00 PM to 9:30 PM (EDT)
Event Details
Le message Français suit
The Connecting the Dots team of Black History Ottawa would like to invite you to attend an Online CtD Community Engagement Session.  We will be offering both an English and French online session in order to best serve all of our communities. The English session will be offered on Tuesday, August 27, 2019 at 7:00 pm ET. The French session will be offered on Wednesday, August 28, 2019 at 7:00 pm ET.
It has been almost a whole year since we started our nation-wide tour in Nova Scotia, seeking to connect the dots through our unique perspectives as members of the African, Caribbean and Black community in Canada. To much of our regret, we were unable to visit every province and territory but we recognize how crucial it is to connect with as many communities as possible. Each Black community across Canada possesses unique lived experiences and perspectives; and Connecting the Dots is working to help create positive relationships within Canada's diverse Black communities. Our solution? Our online community engagement sessions!
Through your effort and engagement as a key community stakeholder, we hope to highlight promising practices as we continue this timely movement.
Session Logins
Join Zoom Meeting: 
https://zoom.us/j/7223004972?pwd=MnM4WGx3aDd1VWJ1bE5UN1ZtakF6UT09
Meeting ID: 722 300 4972

One Tap Mobile: +16475580588, 7223004972# Canada

Dial by your location
        +1 647 558 0588 Canada
        +1 408 638 0968 US (San Jose)
        +1 646 558 8656 US (New York)

Find your local number: https://zoom.us/u/ad6wLeVi5B
About the Connecting the Dots Project
Connecting the Dots is a volunteer-driven initiative led by Black History Ottawa (BHO) that aims to establish a Canadian network of Black leaders working for positive change through online and in-person engagements. We do this by building awareness about their work in local communities, creating forums for them to connect to each other and supporting them to coordinate and expand their models for Black empowerment. In the process, we will compile promising practices from thriving Black communities across Canada to build toolkits that will serve as a road map for community leaders and organizers.
Do you have an exciting project you are working on? Come share with us!
The goal of this project is to highlight innovative initiatives by members of our community across Canada, and help individuals connect to advance their work. If you are working on a project right now, would like to start a project, or know someone who is, please visit our website here to learn more about exciting and smart initiatives from members of our community!

Please come prepared with your promising projects and initiatives, ready to make your submission! Don't worry, we'll walk you through it!
Together, we believe we can set the foundation for a new era of national collaboration and cooperation between organizations and individuals serving our community. We invite you to join us to help make this happen!
*Note: These Connecting the Dots online sessions will prioritize registration of community members from regions not yet visited (Saskatchewan, Nunavut, Yukon, Northwest Territories, Newfoundland & Labrador, New Brunswick, Prince Edward Island, etc.). We also encourage individuals from regions previously visited, who have not yet attended an in-person community engagement session, to join. Feel free to share this event amongst your African, Caribbean & Black (ACB) community network.
---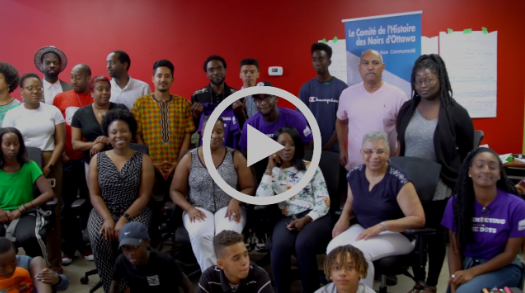 ---
Français
L'équipe Connecting the Dots, une initiative du Comité de l'Histoire des Noirs à Ottawa, aimerait vous inviter à assister à une séance d'engagement communautaire en ligne. Nous offrirons une session en anglais et une session en français, afin de mieux servir toutes nos communautés. La session en anglais sera offerte le mardi 27 août 2019, à 19h00 HE. La session en français sera offerte le mercredi 28 août 2019, à 19h00 HE.
Il y a bientôt un an que nous avons débuté notre tournée nationale en Nouvelle-Écosse, dans le but de joindre nos perspectives uniques en tant que membres des communautés africaine, caribéenne et noire du Canada. Nous n'avons pas pu visiter toutes les provinces et tous les territoires, toutefois nous reconnaissons à quel point il est essentiel de rassembler le plus de communautés possible. Les expériences et perspectives de chaque communauté noire au Canada sont uniques, et Connecting the Dots aide à renforcer des liens positifs au sein ces diverses communautés. La solution proposée ? Nos séances d'engagement communautaire en ligne !
Grâce à vos efforts et à votre engagement en tant qu'acteurs importants de la communauté, nous espérons mettre en évidence les pratiques prometteuses tout en poursuivant ce mouvement opportun.
Les identifiants pour la réunion
Rejoindre la réunion de Zoom : 
https://zoom.us/j/7223004972?pwd=MnM4WGx3aDd1VWJ1bE5UN1ZtakF6UT09
ID de réunion : 722 300 4972

One Tap Mobile: +16475580588, 7223004972# Canada

Composez par votre position
        +1 647 558 0588 Canada
        +1 408 638 0968 US (San Jose)
        +1 646 558 8656 US (New York)

Trouver votre numéro local : https://zoom.us/u/ad6wLeVi5B
À propos de Connecting the Dots
Connecting the Dots est une initiative dirigée par le Comité de l'histoire des Noirs d'Ottawa, qui vise à établir un réseau canadien de leaders Noirs œuvrant pour un changement positif par le biais des mobilisations en ligne et en personne. Nous faisons cela en promouvant leur travail au sein des différentes communautés locales, en créant des forums d'échange communs et en les aidant à coordonner et à étendre leurs modèles de l'autonomisation des Noirs. Au cours de ce processus, nous recensons les meilleures pratiques issues de communautés Noires florissantes à travers le Canada afin de créer des boîtes à outils qui serviront de guide de travail pour les leaders communautaires et les mobilisateurs.
Travaillez-vous sur un projet passionnant? Venez le partager avec nous!


Le but de ce projet est de mettre en avant les initiatives innovantes des membres de notre communauté partout au Canada ainsi que d'aider ces personnes à faire des connections qui les aideront à faire avancer leur travail. Si vous travaillez actuellement sur une initiative, que vous aimeriez en créer un, ou que vous connaissez quelqu'un dans votre entourage qui a une initiative, veuillez s'il vous plaît consultez notre site web pour en savoir davantage sur les projets passionnants venant des membres de la communauté.


Préparez-vous - à soumettre vos projets et initiatives prometteuses! Ne vous inquiétez pas, nous vous expliquerons toutes les démarches.


Ensemble, nous sommes convaincus que nous sommes à l'aube d'une nouvelle ère de collaboration et de coopération entre les organisations et les individus servant notre communauté. Nous vous invitons à être des nôtres pour nous aider à atteindre nos objectifs!
*Note : Lors de l'enregistrement à ces sessions virtuelles, la priorité sera donnée aux membres de communautés que nous n'avons eu la chance de visiter (Saskatchewan, Nunavut, Yukon, Territoires du Nord-Ouest, Terre-Neuve-et-Labrador, Nouveau-Brunswick, Île-du-Prince-Édouard, etc.). Si vous êtes dans une région visitée précédemment, mais que vous n'avez pas eu la chance d'y participer, nous vous invitons à vous rejoindre. N'hésitez pas à partager cet événement dans votre réseau communautaire africain, caribéen et noir.
Organizer
Our organization is focused on engaging Black leaders in Canada coming from all our diverse communities. It includes those starting their leadership journey, including students and youth, along with community elders with decades of experience.  We believe leadership comes in many forms, from individuals working in full-time employment serving our community, to those doing so as volunteers. It includes those connected to organizations and those working on their own at the grassroots level. Faith-based, business, social service, political, radical and mainstream, leaders from all these groups and more are part of who drives us to connect the dots.
---
Notre organisation travaille avec les leaders canadiens Noirs provenant de nos diverses communautés, qu'ils soient au début de leur cheminement en tant qu'étudiants ou qu'ils aient des années d'expérience. Nous sommes convaincus que le leadership prend plusieurs formes; des individus qui travaillent dans les communautés à temps plein, à ceux qui le font en tant que bénévole, ceux qui font partis d'organisations et ceux qui s'impliquent tout seul. Notre travail est inspiré par  les leaders de groupe religieux, d'affaires, de services sociaux, politiques, et bien plus!