About this Event
In this new reality of self-isolation and physical distancing we can still remain connected as an inclusive and meaningful community by taking conversation to the on-line world.
These used to take place in-person every week, and now, through ZOOM video conferencing, the circle is drawn wider and made available to folks everywhere.
And so, from the comfort of your own space, you are warmly invited into dialogue with others and to discussing different topics each week while exploring some deeper questions along the way.
In this safe, inclusive, casual, and accepting environment, dialogue is encouraged over debate as each person has opportunity to share from their own diverse perspectives and experiences.
Folks in this group enjoy going beyond small talk, reflecting both inward and outward, helping build pathways for more peace and understanding in the world... and your voice matters! No particular set of beliefs (or creed) is required to be a part of this community building activity. Diverse perspectives are welcome.
Whether to discover yourself amidst a community on a common journey, or to find meaning among new friends, there is room at the table for you.
Hope to see you there!
DATE/TIME: Every Friday @ 7:00 PM EDT (CAN/US)
ZOOM ONLINE: Select a free RSVP ticket and checkout to receive an email of the link info for joining the session by video conference on your phone, tablet or PC from the comfort of your own space.
Attendees will also receive similar reminder emails 48 hours prior, 2 hours prior, and 10 minutes before the event begins.
DIAL-IN AUDIO: Can't do video? Just dial-in from your home/cell phone and punch in the meeting ID number.
Phone Number: 1-647-558-0588
Meeting ID: (see info in the email you will receive)
NOTE: The RSVPs here represent only partial list of attendees as this event is advertised in many different places.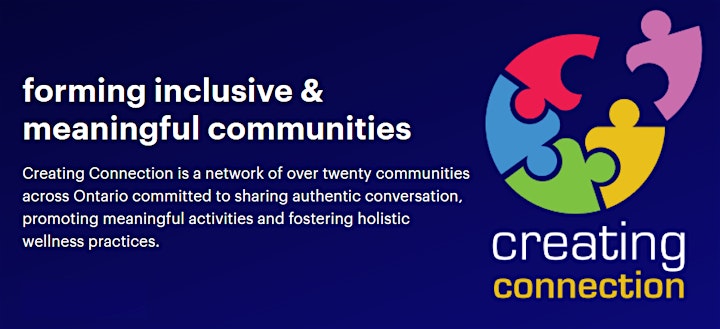 Creating Connection is a network of twenty welcoming and inclusive communities across Ontario committed to sharing in authentic conversation, promoting meaningful activities and fostering holistic wellness practices.
People of every walk of life, culture, faith or tradition, participate in a myriad of connection groups, forming meaningful community within the reality of this welcomed diversity. As a result of this inclusive outlook, these communities are multi-faceted - expressing the inspirations, aspirations, wisdom, practices and blessing of all.
By welcoming and accepting people who identify as "more spiritual than religious", those searching for meaning, and those with humanist or agnostic approaches to life, the collective Creating Connection experience transcends the sum of our individual ways of being.
By embodying the principle of unity in diversity, we discover that dialogue is enriched by individuals with different backgrounds and experiences - and even by viewpoints which are contrary. By building relationships of trust, we can facilitate inner peace and meaningful conversations in our inclusive communities. We are LGBTQ+ affirming.
Website: https://www.creatingconnection.ca/
Facebook: https://www.facebook.com/creatingconnectioncanada/
Instagram: https://www.instagram.com/creatingconnexion/
PRODUCTS FOR PURPOSE
Please visit our Products 4 Purpose online store (http://www.products4purpose.ca) to make a purchase (or leave a donation) that benefits our meaningful partner organizations, gifted artisans and local operations. Your support is gratefully appreciated!
WEEKEND RETREATS
Do you long for deeper, more meaningful connection? Then consider attending one of our upcoming weekend retreats. Experience workshops and presentations that focus on the theme "Live Life Meaningfully Together" and the option to participate in holistic mind-body practices, as well as additional activities that provide a safe setting for sharing thoughts and feelings, allowing you to explore yourself while creating meaningful connection with others.
email: info@connectionretreat.com
website: https://www.connectionretreat.com/