Event Information
Refund Policy
Contact the organizer to request a refund.
Eventbrite's fee is nonrefundable.
Fill your Life with Joy and Excitement
About this Event
DO YOU WANT TO SHORTEN YOUR HEALING JOURNEY?
EASE SOME DIFFICULTIES ENERGIES THAT YOU ARE STORING IN YOUR BODY
CHANGE SOME LIMITED BELIEFS
All memories and difficult feelings are hiding somewhere in your injured body. They are just there! They show up now and then as they are in the cellular level. Pain is just terrible whether they are physical or emotional pain. Stress is the root of health problems.
In this workshop, we are focusing on erasing old relationship vibrational energies through Qi Gong and Qi Gong healing.
You may say to yourself that I have done so much work on clearing the old energies for years. Why am I not healing?
While you may have improved some or a lot, there are many layers of deeper wound to be healed. When you do not feel good or not feeling able to move your next step, there is something to learn and process.
Healing is a gradual process, one step leads to the next step. The best way of clearing is going to the cellular level to organize the wrong vibration that the injured body is holding plus using different tools.
In the remarkable journey of Master Teresa's 25 years working on clients and her own personal growth, she develops extraordinary ability to see, scan and has strong intuition. She knows what is your problem and how you can improve.
One student of another class said this, " I was amazed at how well Master Teresa was able to read each person's bodies and emotional history. The Exercises made me feel much lighter, like I had shed the emotional baggage. Great evening! "
Meeting Master Teresa and be in her presence is a true gift. Her chi is so powerful soft but strong that she erases the difficult feelings hiding.
When you feel less of the feelings, you can move forward in your life a lot easier.
Difficult feelings are holding us nervous about moving forward in our life. The best way is to lighten them, erase some of them or all of them.
Today, like many people you live in a state of constant stress and worry which makes it extremely hard to deal with painful old relationship emotions. When we don't deal with difficult embarrassing, angry or sad emotions, we turn them inward and will resurface later. Depression, anxiety, and stress have been shown to affect the movement and contractions of the GI tract, which can cause diarrhea, constipation, and nausea. Your emotions also appear to impact stomach acid production, which can increase the risk of ulcers.— showing up as insomnia, hostility, and anger, or fear and anxiety.
Overcoming difficult emotions will benefit physical illness.
Master Teresa's Qi Gong beats all drugs in overall health improvements
~ C. Norman Shealy, MD, PhD
Founding President, American Holistic Medical Association
Background of Master Teresa Yeung, Founder of Pureland International Qi Gong:
Master Teresa Yeung is an internationally recognized modern Chi Gong Master, speaker, healer, thought leader and 3-time #1 international award winning bestselling author. She is the founder of Pureland International Qi Gong , a certified private institution. She is the successor of Grandmaster Weizhao Wu's lineage. Wu was a distinquished Chi Gong master, educator and creator of the highly successful Wu's Eye Qi Gong helped millions of people. You can visit her website at www.purelandqigong.com (Pureland International Qi Gong) or her personal website (MasterTeresa.com) for more information. Please contact her via MT@purelandqigong.com for any questions.
When the students are ready, the teacher appears!
Master Teresa educates her students about the power of the chi energy and how it works to raise the energetic level of the emotional, mental and spiritual states within the physical body. Having worked with thousands of people of all ages and walks of life, she teaches them how to tune into the chi energy for balance, clarity and direction. Whatever the personal challenges are, the chi empowers to move forward. She has seen the positive results in many of her students, and within herself, having faced her own hardships as a single mother raising three children on her own.
Master Teresa – as she is lovingly called – has an impressive resume.
https://purelandqigong.com/
Sunday 6 - 8.00pm
Erase some difficult emotions with Qi Gong (no experience is needed)
Qi Gong has transformed many people's life with scientific research studies. Master Teresa is using the Chi to heal people to the next level helping the emotions in a risk-free way. Your experience with her will be profound.
The energy of the teacher is so important to the success of the students. As Master Teresa is a female teacher, her energy besides healing, it is very kind and nurturing in a powerful way that heals. You will
- learn valuable information
- learn how to practice Qi Gong for feelings
- receive chi healing from Master Teresa
- learn self-help techniques
- interactive healing workshop
For the best results, another dose of clearing on the same day can work magic.
Comments from Students:
(1) Master Teresa's work is very beautiful. She heals with kindness, grace, and humor. I suffer from chronic pain in several areas of my body. My profession also brings me great stress and causes my mind to feel foggy, and I often find it hard to focus on my work. After only one session, my physical pain was reduced dramatically. That said, what I was most impressed with was how much clearer my mind felt. I didn't feel fatigued or drowsy. I felt energized, relaxed, and clear-headed. I am going to continue to work with Master Teresa, and I plan to learn qi-gong as well.
Thank you, Master Teresa!
(2) Thank you very much dear Master Teresa! It was my very first remote healing session. After the session, I feel lightness in my chest and calmness in my mind. Still I feel it.
During the session, I really felt seeing and talking to my nephew like face to face.
You also helped me to shift my own wrong thoughts into the better thoughts so feeling more brave. I am looking forward to my next session.
(3) And, I'm so glad I did. The annoying buzzing in my left ear, was gone just after few hours during the first day of workshops! The uncomfortable pain in my right knee, seemed to vanish by the end of that first day. And, through it all, I felt so calm.
And, on the last day shortly before we parted ways, you tapped into some unresolved passed issues that apparently, still have a strong impact on me. Even though that was the last thing I wanted to deal with, you so kindly and lovingly walked me through it and shared your healing energy, to assist me. That defiantly was not part of the workshop curriculum, yet, you were there willing to assist me. I admire your selflessness and I will forever be grateful, for your kindness. You will be hearing from me again.
Thank you from the bottom of my heart! Love, Nina"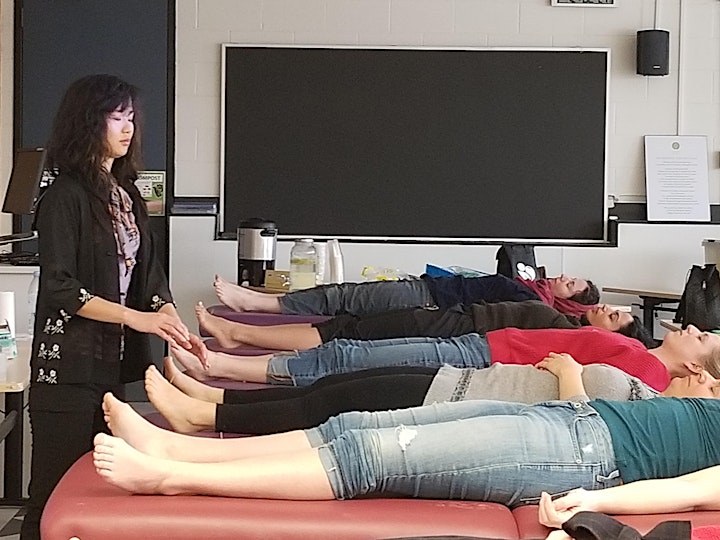 Date and Time
Location
Refund Policy
Contact the organizer to request a refund.
Eventbrite's fee is nonrefundable.