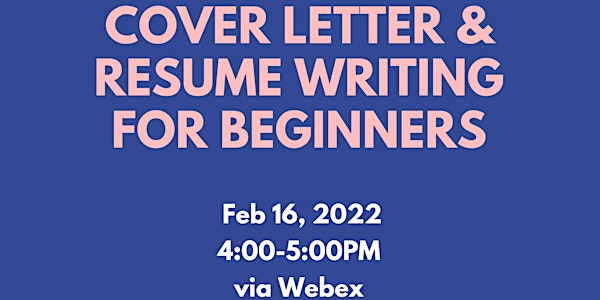 Online Event: Cover Letter & Resume Writing For Beginners 101
An informative online event about how to write a cover letter & resume for youth!
About this event
Cover Letter & Resume Writing for Beginners 101
Join SLYE & Tropicana for our Cover Letter & Resume Writing for Beginners 101! This session will share information and resources from Tropicana showcase to youth how to write a cover letter and resume. Youth will be able to ask any questions they may have during our Q&A Session.
Online Roadshow Ground Rules
Be Curious, Open, and Respectful - call in not out/throw sunshine not shade
Confidentiality - don't speak for others without explicit permission, don't share something communicated in a private or safe space.
One mic - one voice at a time
Take Space/Make Space - if you are usually quiet challenge yourself to take more space, and if you usually talk a lot be mindful to leave room for quieter voices
Be conscious of intent vs. impact - no matter intention you're responsible for your impact
We strive to create a safer space that is inclusive and accessible for all. Anyone who engages in actions that promote discrimination or hate of any kind (such as racism, sexism, homophobia, transphobia, Islamophobia, or ableism) will be removed from the program immediately and banned from all other SLYE activities indefinitely.
By signing up for this workshop, you are agreeing to all of these ground rules.