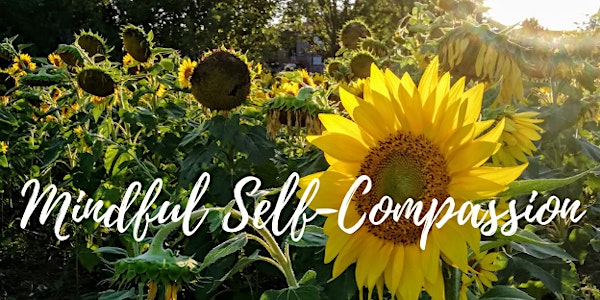 ONLINE EVENT: Mindful Self-Compassion Program
Join us online, from the comfort of your home, and learn the skills to attend to difficulty with more compassion, ease and kindness!
Refund Policy
Refunds up to 30 days before event
Eventbrite's fee is nonrefundable.
About this event
"Learn to manage difficulty with more ease and kindness"
Mud & Lotus Wellness would like to invite you to participate in a virtual (ZOOM) offering of the Mindful Self-Compassion program. This program will be facilitated by Mindful Self-Compassion Trained Teachers Anna Marie Batelaan (BSW, MSW, RSW) and Dagmara Urbanowicz (MSW, RSW)certified through the Center for Mindful Self-Compassion and the University of California San Diego. Anna Marie and Dagmara have many years of clinical Social Work experience in a variety of settings as well as teaching and facilitating Mindfulness and Compassion based programs. They have been facilitating and loving this program for a number of years and are excited to embark on the adventure of Mindful Self-Compassion with you! If you are interested in finding out more about Anna Marie and Dagmara check out their bio on www.mudandlotuswellness.ca for further details.
PROGRAM OVERVIEW:
Mindful Self-Compassion (MSC) is a "proven way to accept yourself, build inner strength, and thrive." In a time when we all need something to hold us up in the flood of life and world challenges, MSC can support us to navigate it all with more ease by starting with compassion for our own challenges and difficulties!
MSC is an empirically supported 9 session program designed to cultivate the skill of self-compassion. This program was developed by Dr. Christopher Germer, PhD, a leader in the integration of mindfulness and psychotherapy and Dr. Kristen Neff, PhD, a pioneering researcher in the field of self-compassion. 
Self-compassion can be learned by anyone. It fosters emotional strength and resilience, allowing one to admit to ones shortcomings, motivating oneself with kindness, forgiving oneself as needed, transforming empathy fatigue into wholehearted engagement with others and being oneself more authentically. The intention of this program is to support participants in building their well-being, resilience, and self- compassion tool box in order to meet life's difficulties with more ease and kindness. 
DATE & TIME:
INTAKE INTERVIEWS: To be scheduled via video conferencing with each participant upon registration.
* PLEASE NOTE that intake interviews will be scheduled with each individual participant at a time that is convenient for the participant and both facilitators - participation in the program is dependent on your ability to attend the intake interview. Final registration for the program will be confirmed upon the completion of the intake interview. Following the intake interview reimbursement will be made available if required*
January 10th| 6:00 - 8:30 pm | Session 1
January 17th| 6:00 - 8:30 pm | Session 2
January 24th| 6:00 - 8:30 pm | Session 3
January 31st| 6:00 - 8:30 pm | Session 4 
February 7th 6:00 - 8:30 pm | Session 5
February 14th | 6:00 - 8:30 pm | Session 6 
February 21st | 6:00 - 8:30 pm | Retreat
February 28th| 6:00 - 8:30 pm | Session 7
March 7th|6:00 - 8:30 pm | Session 8
REGISTRATION DEADLINE:
December 25th, 2021
***Full refunds will be available up until the registration deadline ***
WHAT TO EXPECT:
Program activities:
Discussion of a variety of topics on Mindfulness and Self-Compassion 
Experiential exercises
Informal and formal Meditation practices
Small group interactions
Home practices
Learning expectations:
Practicing mindfulness and self-compassion in daily life
Managing caregiver fatigue
Exploring the research and science behind self-compassion
Using self-compassion to live according to your values
Managing difficult emotions 
Motivating yourself with kindness rather than criticism
Working with challenging relationships
Practicing savouring and self-appreciation
Explore practicing in a silent retreat setting 
ELIGIBILITY:
This program is designed for anyone. Meditation experience is not necessary to participate in MSC. 
 This program qualifies as the prerequisite for training as a Mindful Self-Compassion (MSC) teacher. 
PROGRAM REQUIREMENTS:
MSC participants must purchase The Mindful Self-Compassion Workbook prior to starting the program as part of the course material. The Workbook can be purchased through Amazon.
MSC participants are asked to practice mindfulness and self-compassion at home for up to ½ hour per day during the course. In order to receive a certificate of completion participants can miss no more than 2 sessions. 
NOTE:
Insurance Coverage: If you have third-party insurance, it may cover all or part of the cost of a therapeutic course. We recommend that you contact your insurance provider to confirm what health professions your plan covers (e.g. Social Worker) and that this coverage includes the types of therapies in question (sometimes there are restrictions on the particular services covered by a given health profession). Insurance receipts will be issued during the final session of the program.
Please email us at mudandlotuswellness@gmail.com if you require access to our sliding fee scale.
****In order to move forward with the group a minimum of 6 participants will be required. In the event of low registration a decision will be made by Dec. 25, 2021.  Registered participants will be entitled to a full refund and will be notified via email of any cancelation****
 FACILITATORS:
Anna Marie Batelaan, BSW MSW RSW, Trained MSC Teacher
Dagmara Urbanowicz, MSW RSW, Trained MSC Teacher
We look forward to practicing with you, 
Dagmara  & Anna Marie
Mud & Lotus Wellness