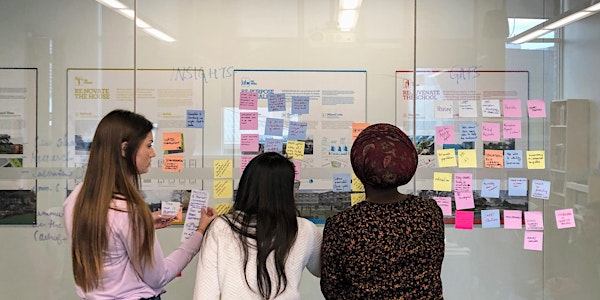 ONLINE: George Brown College Interdisciplinary Design Strategy Postgraduate
ONLINE: George Brown College Interdisciplinary Design Strategy Postgraduate
About this event
Please note that this session is ONLINE and can be viewed by both desktop and hand held devices, however we recommend you use a desktop computer to join for connectivity reasons. You will receive the link to join this event 48 hours prior to the event.
About the Interdisciplinary Design Strategy Postgraduate Program
Each September, a small group of students begin a nine-month graduate certificate program in Interdisciplinary Design Strategy at the Institute without Boundaries (IwB), where they work as a team to research, design and realize a real-world project. Initiated in 2003, this program delves into the methods and practices of design research, strategy and social innovation. It is a unique educational experience offered by George Brown College in partnership with leading designers and industry.
Start your journey here.
Join us to learn more about how you can become an interdisciplinary design strategist. Over the next five years, we will bring together interdisciplinary groups of students, faculty, and industry experts to explore Future Ways of Living and address issues of inequality, climate change, migration & displacement, affordability, as well as many other issues that will impact the ways in which we will live.
Join us to learn more about the program.
The purpose of an information session is for you:
To get a better understanding of our Interdisciplinary Design Strategy (Postgraduate) at the Institute without Boundaries program
To discover what it's like to be a George Brown student
To meet some of your instructors
Directions:
Please note that this session is ONLINE and can be viewed by both desktop and hand held devices
Some things to keep in mind:
You may want to do a little bit of research before you arrive so that you know the questions you want to ask.
FAQ
How long will this information session be?
Your ONLINE session will last approximately 1 hour
When will I receive the link to the ONLINE session?
The link to access the ONLINE Information Session will be sent to you 48 hours before the event starts.
What if I can't make it?
We understand that things come up. You can check back to see if there are any upcoming sessions that better match your schedule.
Who do I contact if I have more questions?
Hopefully we'll be able to answer most of your questions during your session, but you can always get in touch with Eirene Keh at Eirene.Keh@georgebrown.ca
Who do I contact if I still have questions about George Brown?
You can always connect with the George Brown contact centre at 416.415-2000 (Mon-Thurs, 8 a.m. -6:30 p.m., or Fridays, 8 a.m. – 4:30 p.m.)
What if I require an accommodation?
If you require any accommodation, please let us know when you register.