WIN LATEST MODEL I PHONE, PS5 & MANY MORE ONLINE PRIZES To see your local timings go to www.ggssc.ca India and Toronto Times below-
About this event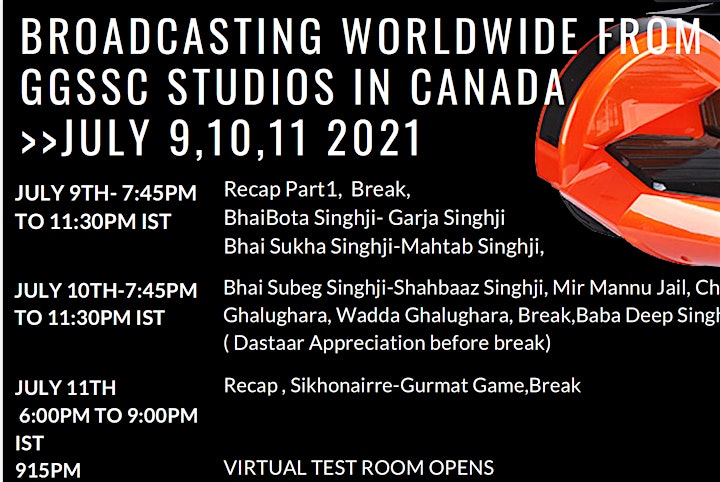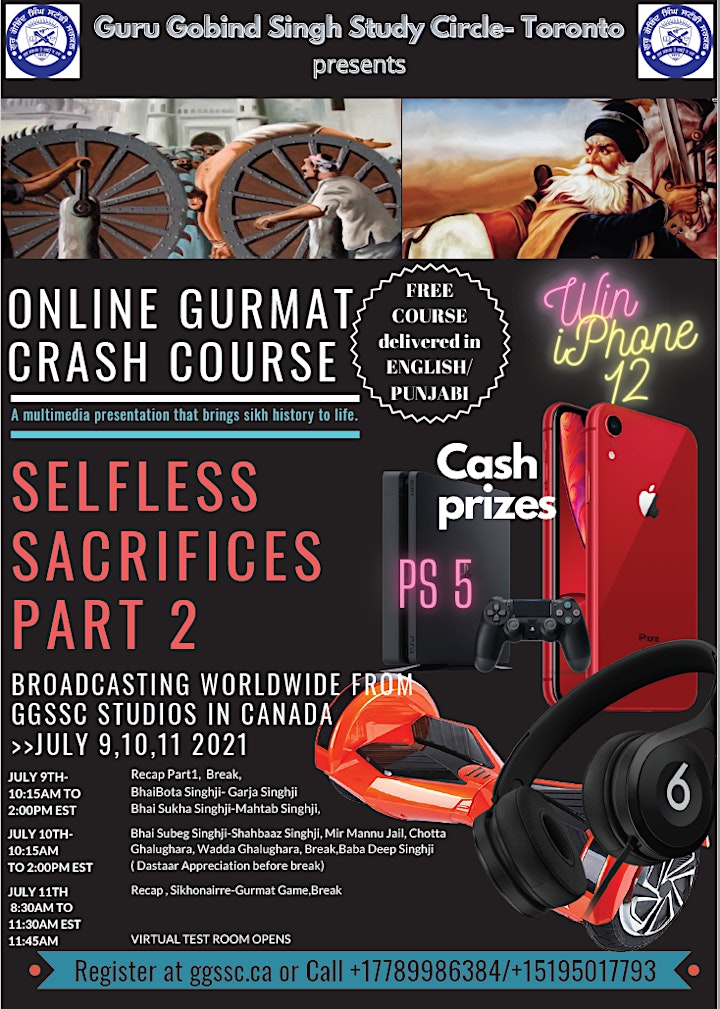 KINDLY NOTE TIMINGS ARE BASED ON TORONTO TIME EST!!
For your timing pls visit www.ggssc.ca to see your local poster.
PLEASE REGISTER SEPARATE EMAILS FOR ONE SET OF FAMILY. ONE FAMILY WILL GET ONLY ONE ZOOM DEVICE LOG IN TO ALLOW MOST PEOPLE TO JOIN!!
IF YOU HAVE ALREADY REGISTERED ON CANDIDATE PORTAL FOR LAST EXAM PLS ENSURE SURE LOG IN IS WORKING ON BOTH ZOOM AND SPEEDEXAM. ALREADY REGISTERED CANDIDATES (RETURNING STUDENTS) PLS IGNORE THE NOTES BELOW
THE BELOW INSTRUCTIONS ARE FOR NEW ATTENDEES WHO MUST RECEIVE ZOOM AND SPEED EXAM LOGIN DETAILS
_____________________________________________________________________________________________
Waheguruji Ka Khalsa Waheguruji Ki Fateh,
Conducting an online event is really very hectic so we ask you for a very simple seva.. Register before June 30th 2021, do not delay till last date.
The problem is you cannot enter the room without security check and that requires you completing the following steps at minimum-
ONCE YOU REGISTER ON EVENTBRITE HERE ARE THE STEPS
1- REGISTER IN OUR ZOOM GROUP BY CLICKING ON THE EMAIL YOU RECEIVED AFTER COMPLETING REGISTRATION HERE ON EVENTBRITE( IF NOT RECEIVED CHECK YOUR JUNK MAIL OR PLS CALL US AT 15195017793) MAKE SURE YOU DO IT FROM A COMPUTER.. IF YOUR DAD OR MOM REGISTERED YOU WILL NEED TO REGISTER WITH SAME EMAIL. WE REQUEST YOU TO USE ONE DEVICE PER FAMILY AND WATCH AS A FAMILY
2- LOG ON ON SPEEDEXAM.NET (CANDIDATE PORTAL IS ONLY FOR STUDENTS OVER 9YRS and OVER) EMAIL YOU WILL RECEIVE AND GO TO MY ACCOUNT AND UPDATE YOUR CLOSEUP PICTURE THAT MATCHES WITH YOUR ID. IF YOU DONT RECV THIS EMAIL OR ONE EMAIL WAS USED TO REGISTER ALL BROTHERS SISTERS CALL 15195017793. AFTER UPDATING PHOTO
UNDER 9 YRS PARENTS WILL BE CONTACTED BE SEVADARS FOR A CREATION OF SEPARATE WHATSAPP GROUP ONLY FOR TENURE OF CRASH COURSE AND EXAMS THERE AFTER. UNDER 9 YRS WILL RECV EXAM INFO IN THAT GROUP AND WILL RECV A SCHEDULE OF EXAM DATES AND TIMINGS WHEN THEY NEED TO COME ON VIDEO CHAT IN PRESENCE OF A PARENT.
AT ANY POINT YOU ARE STUCK YOU CAN CALL
Between 11AM to 7PM TorontoTime Only!
GRAND PRIZES will be awarded to the winners in each age group based on the prizes they choose and their percentage of marks.. The winner decision will rest solely in hands of GGSSC Canada Team.
PS:
ANY STUDENT WHO HAS WON A GRAND PRIZE GIFT PREVIOUSLY IN THE SAME CRASH COURSE TOPIC IN ANY AGE AFTER 9 YRS WILL BE GIVEN HONORS AWARD AND NO GIFT.
THOSE WHO HAVE WON GRAND PRIZES 2 TIMES AND MORE BEFORE WILL RECEIVE APPRECIATION CERTIFICATE AND A MENTION ON THE FINAL PRIZE LIST/HONORS WALL ON WEBSITE IN THE FUTURE. THESE ATTENDEES WILL NOT RECEIVE THE TROPHY, PRIZE MONEY OR GIFT.
UNDER 9 YEARS PREVIOUS GRAND WINNERSS DON'T QUALIFY FOR GRAND PRIZE GIFT BUT WILL RECEIVE HONOURS AWARD
PLS PLS CHECK UR JUNK MAILS BEFORE CALLING
B.BINDER KAURJI AT 1 519 501 7793
OR
S. IQBAL SINGHJI/B. JASWINDER KAURJI AT 1 647 997 0954
OR
S. ANTER SINGHJI AT 1-778 998 6384
OR
B. KAWALPREET KAURJIi at
1-778 680 0140
GURMAT REGARDS
GGSSC CANADA TEAM
WWW.GGSSC.CA
WITH SPECIAL COOPERATION FROM THE SANGATS OF
KALGIDHAR SEWAK JATHA- AHMEDABAD,GUJARAT
GURMAT PRACHAR CHARITABLE TRUST-MUMBAI
GURDWARA SRI GURU SINGH SABHA,ULSOOR-BANGALORE
ONTARIO KHALSA DARBAR- DIXIE RD,ONTARIO
SIKH SPIRITUAL CENTRE- REXDALE, TORONTO
BABA BUDDHAJI GURDWARA -HAMILTON
DASHMESH CULTURE CENTRE-CALGARY
SRI GURU SINGH SABHA- SEATTLE-USA
GURU NANAK SIKH GURDWARA-SURREY
GUELPH SIKH SOCIETY-ONTARIO
GOLDEN TRIANGLE SIKH ASSOCIATION- KITHCENER, ONTARIO
HALTON SIKH GURDWARA -OAKVILLE
GURDWARA KHALSA PRAKASH-WINDSOR
GUDWARA SINGH SABHA-SEATTLE
OTTAWA SIKH SOCIETY
IF YOUR GURDWARA WISHES TO STREAM THIS TO SANGAT OR EXTEND TO THEIR KHALSA SCHOOLS ITS AVAILABLE FREE..JUST WHATSAP 15195017793
Organizer of ONLINE GURMAT CRASH COURSE "Selfless Sacrifices Part 2"
INTRODUCTION
GGSSC  Canada was founded in May 2001 wth classess and weekly kirtan program in basements across Toronto. Today GGSSC Canada is a National Organization with over 4 active locations and more than 1000 members.GGSSC Canada has touched the lives of several youth through their innovative Gurmat Crash Courses that are delivered in multimedia format in and in english across key cities.