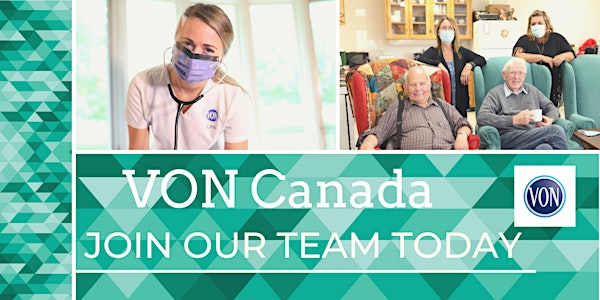 Online Job Fair Fridays 2022
We are having an Online Job Fair drop in and learn more about working for VON in Peel. Register it's free.
About this event
You are invited to attend our upcoming Virtual Job Fair, attendance is free! This will be a great opportunity to connect with our staff and find out more about VON careers and current employment opportunities in Peel. Our event is open to those with experience as well as recent college graduates. This is your chance to connect directly with some of our hiring team members; so please make sure to register and have an up to date resume in Word or PDF format ready to share.
Career opportunities with VON include the following:
Personal Support Workers (Full Time, Part Time and Casual)
Registered Nurse (RN) Full Time, Part Time and Casual
Registered Practical Nurse (RPN) Full Time, Part Time and Casual
Activity Aides
Fitness Instructors
Client Service Associates (Planning and Scheduling)
VON Canada has been pioneering care at home for over 125 years. Today, we are a highly-trusted registered charity that works with our clients, employees, volunteers and partners to provide innovative clinical, personal and social support to people who want the comfort and peace of mind of living in their own homes and communities.
Our Vision: Every life lived to the fullest.
Our Mission: We help people live in their homes and communities by delivering the caring support that they and their families need.
To be considered for any position within VON all candidates are required to be residing and legally entitled to work in Canada, with all necessary documentation in hand.
opportunities for advancement and benefits of working at VON
You get to work independently while being a part of a team
You can focus on one client at a time
You will work to full scope and learn new skills
You will receive tiered benefits (health, dental, LTD) and have access to an Employee Assistance Program (Benefits start on date of hire for all permanent positions that are 50% or greater)
We have a defined benefit Pension Plan with company contribution
You will have scheduling options and guaranteed hours
A smartphone is provided to keep you connected and support is a phone call/text away
You will be paid for travel time and kilometer compensation
The wage rate we offer is as per collective agreement (RN/LPN - NSNU, CCA - NSGEU)
You are entitled to paid statutory holidays and paid vacation
Learn about our opportunities for advancement and benefits of working at VON
Take a look at our current opportunities