ONLINE Live Virtual "Agile" Culture & Leadership - Deep-dive (CAL2)- AU/NZ
Event Information
Refund Policy
Refunds up to 7 days before event
ONLINE Live Virtual "Agile" Culture & Leadership- Deep-dive (CAL2) with Michael Sahota- AU/NZ
About this Event
In collaboration with our Partners and so that you can AVOID any currency exchange and conversion charges, please register with our partners:
AUSTRALIA Registration- Scrum With Style, COMING SOON
NEW ZEALAND Registration- EquinoxIT, COMING SOON
---------------------------------------------------------------------------------------------------
SYDNEY FRIENDLY TIME:
JUN 28: 6:00AM-3:00PM AEST (Australia/New South Wales Time)
JUN 29: 6:00AM-3:00PM AEST (Australia/New South Wales Time)
JUNE 30: 6:00AM-3:00PM AEST (Australia/New South Wales Time)
NEW ZEALAND FRIENDLY TIME:
JUN 28: 8:00AM-5:00PM NZST (Auckland/New Zealand Time)
JUN 29: 8:00AM-5:00PM NZST (Auckland/New Zealand Time)
JUN 30: 8:00AM-5:00PM NZST (Auckland/New Zealand Time)
Please see below for reference of additional time zones
Toronto (Canada - Ontario) Monday, Jun 27-29, 2021 at 4:00PM-1:00AM EST
-------------------------------------------------------------------------------
What to Expect:
Live polls (using PollEverywhere)
Small virtual room breakouts for discussion
Live drawings
Q&A
Technical Requirements:
An internet speed of at least 8 Mbps (up & down) (check your speed by Googling "speed test" and run the test)
A front-facing camera so that everyone in the class can see you. (Test this before the course.)
Audio with the ability to speak to and hear each other in the class (test this before the course)
Zoom meeting technology
Note: Attendees must be fully present and participating (on Zoom with video) during the entire training to receive CAL2 certification from the Scrum Alliance. I.e. no driving, no other meetings. We support this requirement to support an optimal training environment for participants.
If you need more flexibility, please see our "Agile" Culture & Leadership online training.
--------------------------------------------------------------------------------------
Certified Agile Leadership 2 (CAL2) Training
"Taking your Leadership to Extraordinary"
You have unlocked the challenges with Agile, deepened your levels of growth on your leadership path.
And now an even deeper dive….
We will take the proven results of top performance and continue your path to success…
Course Description
Michael Sahota's CAL 2 is a continuation and extension of CAL 1. It is a deep dive into the concepts of the CAL1 that includes practical role-playing experiences and advanced personal growth skills. It also covers additional material that builds on CAL1 around organizational evolution and high performance. It consists of a 3-day online training/workshop followed by a 4-month integration program.
Online Training/Workshop
This is an intense 3 days of deep exploration into leadership, organizational growth and, the connection of culture to high-performance organizations. During this experience, participants will undergo a process of letting go of existing behaviours that block their abilities to be an effective leader; they will explore models of culture and receive a strategic/tactical playbook to guide the next steps on their journey of creating high-performance organizations.
To Learn More, Visit Our Website
CAL2 Program Timeline
Integration Program - Peer Review Sessions
(after in online course)
In groups of 4-6 people, participants will continue as a peer-group to integrate and deepen the learning as they are put into practice. Participants will document their application of course learning and get peer feedback and review on their analysis.
This work and participation in these sessions are mandatory for certification.
Integration Program - Large Group Review
The whole class will have a half-day online meeting to review and integrate learning. Each participant will make a short presentation to the group - it can be from an existing topic already shared in a small group or any topic related to the course.
Duration: 4 months (3-day training followed by approx. 1 day/month)
Course Pre-requisites:
CAL1 or CAL-E & CAL-O certification by Michael Sahota.
Certification:
Certification will be granted to participants who:
Prepare for and participate in peer-review sessions.
Pass peer and instructor assessment on final ½ day review meeting.
You are welcome to attend the training to get the knowledge without going through the certification process.
Course Outcome:
Certified Agile Leader 2 (CAL2) Designation from the Scrum Alliance
The Sahota CAL 2 Playbook for High-Performance Organizations
Tactical/practical skills to create high performing organizations
Cultivate an organizational and cultural context where Agile may flourish
Personal growth practices for high performance
Development of leadership mindset needed to support growth
Advanced practical skill in "Agile" Organizational and Leadership approaches to decision making, change, engagement, and high performance
Network and community of participants around the world
FAQ
Q - What if I took CAL 1 from another instructor?
A - Each CAL is as unique as the instructor. Michael Sahota provides a unique CAL1 experience where people learn his Playbook for High-Performance Organizations ™ . As a result, all CAL2 participants must have completed Michael Sahota's CAL1. If you have already taken a CAL1 with another instructor, we would be happy to offer you a heavily discounted seat to reflect your commitment to learning and growth.
Q- What if I cannot participate in the Peer Review sessions?
A- To get certified you must fully participate in the peer review sessions. This is a time where you will learn from your peers, share experiences, and network. Certification of CAL 2 through the Scrum Alliance will depend on full participation and positive peer review. Please allow for a 4-month process for the complete CAL 2.
You are welcome to attend the training to get the knowledge without going through the peer certification process. The course fee is the same.
Q- What comes after CAL 2?
A- We all understand that leadership is a lifelong commitment, where growth happens over time and experience. We at Agilitrix are excited to announce the next step in your leadership path. The Academy of Leadership Mastery. Starting in 2019, a new approach to conscious leadership has begun. Taking your leadership beyond Extraordinary. Please contact us for more details.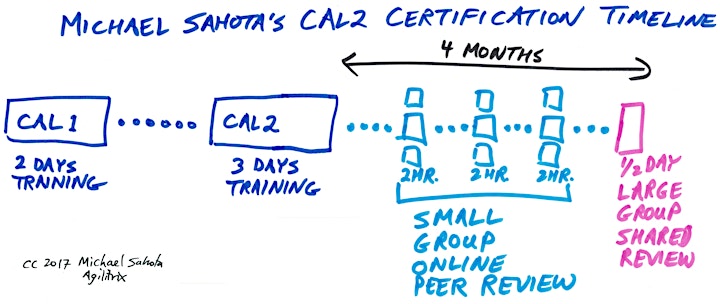 Location
Refund Policy
Refunds up to 7 days before event