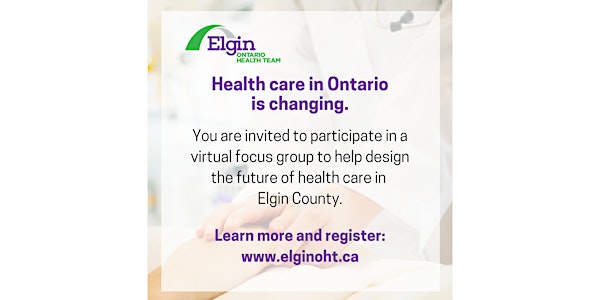 Online Meeting: Elgin OHT, Patient, Family and Caregiver Engagement Session
Elgin OHT Patient, Family and Caregiver Engagement Session
When and where
Date and time
Wed, Nov 25, 2020 3:00 PM - 4:30 PM PST
About this event
You may have heard that the Ontario Government is restructuring how health care is delivered in the province. Fundamental to the plan is the creation of Ontario Health Teams (OHTs). These teams are being introduced to provide a new way of organizing and delivering care that is more connected to patients in their local communities.
A group of health care providers in Elgin County have come together to plan for the creation of an Elgin Ontario Health Team (Elgin OHT). Since receiving the go ahead from the Ministry of Health to submit a full application to become an OHT, these partners have been working to create a detailed proposal for improving access to health care in Elgin County.
WE NEED YOUR HELP TO DESIGN THE FUTURE OF HEALTH CARE IN ELGIN COUNTY. You are invited to participate in a virtual focus group to share your input and experiences as a patient, caregiver or family member. We are committed to ensuring that patient values and perspectives remain top priority throughout this process. You are welcome and encouraged to participate as much as you would like in this process. The focus group will take place on:
November 25th, 2020 from 6:00 pm to 7:30pm
Please register for the focus group using this page or feel free to email jordana@mdahealth.ca. You may also call 416-642-2081 ex 224 to register. Please see the Zoom Meeting details below for the meeting link and call in details.
What to expect in the session?
In this 1.5 hour session, you will learn more about OHTs and the initial planning that has been completed to create an Elgin OHT. You will be engaged in discussions and activities to share your perspectives on the OHT model, the changing needs of you and your community, and how the Elgin OHT can best support you into the future. Your participation in this project will help to ensure that you are able to access the care and services that you need to stay healthy.
We value your participation in this journey. Thank you for contributing to the future of health care delivery in Elgin County.