Music teachers, are you curious about leveraging technology and bringing your private and group music classes online?
About this event
Join us for a FREE webinar on Friday, March 27th at 10:00 am PST and 1:00 pm EST. In this one hour session, our host Graham Blank will facilitate an interactive dialogue with five versatile and experienced music educators including Dr. T. Patrick Carrabré, Derek Chui, Dr. Erin Parkes and Chris Foley. This will be an excellent opportunity to have all of your questions answered and help you feel empowered as an educator. We would love to see you there!
DATE: Friday, March 27th
TIME: 10:00 AM PST and 1:00 PM EST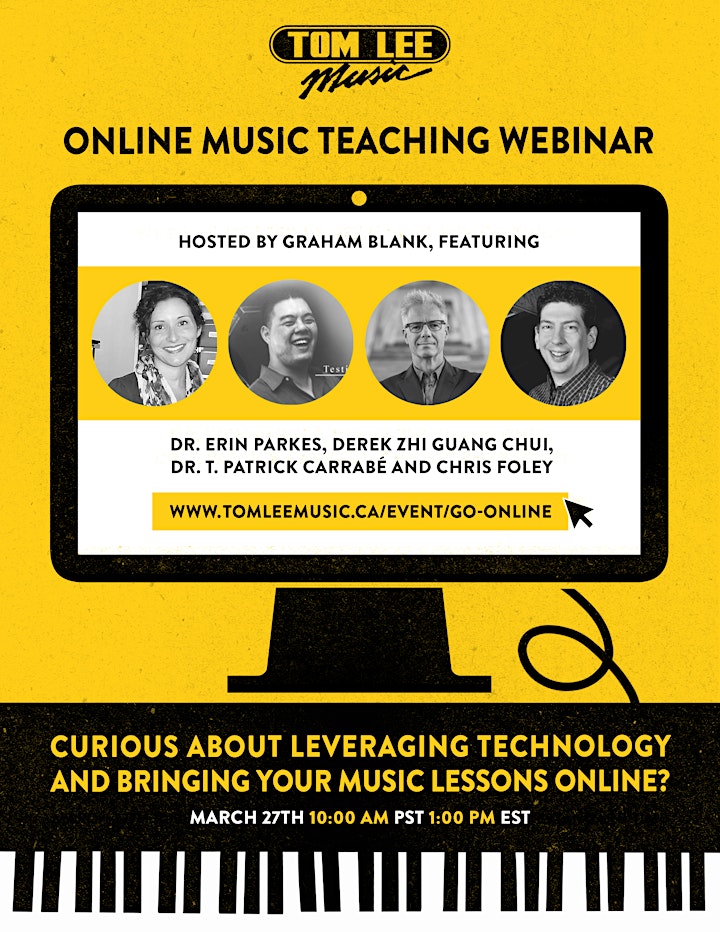 How do you access the content? The Online Music Teaching Webinar can be viewed on your smartphone, tablet or computer depending on your preference. Tom Lee Music is hosting the panel on the video communications platform Zoom. You can create a free account at www. zoom.us/signup. Once you have created your account, type in our unique Zoom ID 476 024 086, and you will be good to go. We recommend logging in a couple of minutes before the start of the webinar so that you can get familiar with the technology and ensure that you have access.
Questions? Please feel free to email us directly at socialmedia@tomleemusic.ca.
各位音乐老师们,欢迎加入我们3月27日早10点的免费在线音乐教学研讨会,在这一个小时的研讨会中,你将得到在线音乐教学所需要掌握的全部教学技巧。
本次研讨会由四位加拿大极富经验和才华的音乐教育家主讲,包括Patrick Carrabré博士,Erin Parkes博士,Derek Chui和Chris Foley,通利琴行副总裁Graham Blank将以主持人的身份协助主讲人和参与老师们的沟通,在这个难得的研讨会中,经验丰富的音乐教育家们将解答你的一切问题,为你接下来的的音乐教学充电!
請上網至ZOOM(www. zoom.us/signup) 建立帳號再用 Zoom ID, 476 024 086進入研討會
Organizer of Online Music Teaching Webinar
Tom Lee Music has been proudly bringing music making to local communities throughout British Columbia since 1969. Since our humble beginnings as a small piano retailer in Vancouver, we have grown into one of the largest full-line musical instrument retailers in North America. Tom Lee Music provides the very best in musical instruments, equipment, services and education throughout our eight retail locations and online store. We are well known for supporting the local music community and have received numerous awards in recognition of our longstanding dedication. At Tom Lee Music, customer satisfaction is always our number one priority. Our aim is to provide every person with an enjoyable music making experience by delivering quality music products and services at competitive prices in an inspiring retail environment.