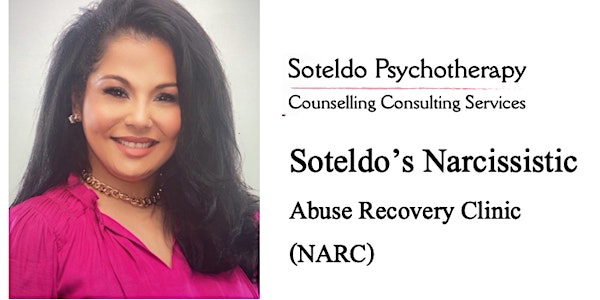 Multiple dates
ONLINE Narcissistic Abuse Recovery Clinic 5-week Series Workshop R. Soteldo
ONLINE Narcissistic Abuse Recovery Clinic 5-series Workshop with Support Group included! by Registered Psychotherapist
When and where
Date and time
Starts on Fri, Feb 18, 2022 3:00 PM PST
About this event
This workshop is ONLINE. All via dial-in or zoom video, preferred dial-in for confidentiality.
Introducing Narcissistic Workshops and Support Groups
My name is Raquel Soteldo. I am a registered Psychotherapist and a Certified Canadian Counselor.  Narcissistic Abuse is one of the worse types of abuse because it can be implied, unheard, unseen and still cause massive psychological issues for both the victim and their loved ones. Narcissistic Abuse is like a disease that eats at the victim and erases their entire identity. I am honoured to facilitate this 5-week workshop series that comes with a support group. It begins on Feb 18th. Each workshop/week is $99 and comes with two hours in our support group running weekly. You can buy one week at a time or all of the 5 of them for $299. It is up to you!
Social Media has created a waive of information relay about Narcissism that can be confusing, unreliable, and many times leading to even more abuse. Unfortunately, social media channels often regurgitate the information from one channel to another, so it is difficult to get the right information. Also, social media influencers are worried about numbers to get their videos watched. This means they limit the amount of information and the depth of the information is sacrificed.
This workshop wants to explore the narrative of Narcissism in the world of Psychology. From early fathers in the industry to current psychotherapists, this workshop is based on 20 years of real life experience and research.
Workshop Classes Every Week
Class 1: February 18, 2022 - 6 pm - 8 pm EST
Support group: February 17, 2022 - 7-9 pm
The Recognition Phase: Narcissistic Personality Disorder, Sociopathy and Psychopathy. Discover who is the narcissist in your life, recognize the symptoms, understand the condition and what it can do to you in the long run. Using psychological theories from Freud and Kohut, among others. We will also be looking at different psychological assessments that could help us in our regular lives to recognize who is the narcissist in our life.
Class 2: February 25, 2022 - 6 pm - 8 pm EST
Support group: February 24, 2022 - 7-9 pm
The Exposure Phase: When you know, should you expose the Narcissist? Now that you know they have this condition, what do you do? Recognize the red flags, understand how you are trauma bonded and it is not what social media wants you to think. Flying Monkeys, the exposure rage, Silent Treatment, Retaliation and more.
Class 3: March 4, 2022 - 6 pm - 8 pm EST
Support group: March 3, 2022 - 7-9 pm.
The Separation Phase: Living with the enemy - After the suffering is done, do you seek therapy? But, breaking lose seems so impossible! Psychotherapeutic Interventions, Crisis Plans, Present Moment Awareness, Safety Plans.
Class 4: March 11, 2022 - 6 pm - 8 pm EST
Support Group: March 10, 2022 - 7 -9pm
The END or expecting Hoover? How to stop being the nice person all the time -Learn what the appeal is to these forms of attachment. See what the past has taught you and where your attachment and love language is leading you. Do you need to form new habits or should you continue in the same behavioural patterns that led you to this situation to begin with? What about your parental attachment styles? Discover your boundaries and become more assertive.
Class 5: March 18, 2022 - 6 pm - 8 pm EST
Support Group: March 17, 2022 7-9 pm
Walk Away! It is an Addiction: How to detach - techniques to let go, move on and become whole again. Gain back your identity. Become the person you always wanted to be, or who you were before (but better). Create your support network. Adapting to life after Narc Abuse is filled with paranoia, psychosis, high anxiety, high depression, potential substance abuse and more. Let's do this!
Also, the general feeling behind this workshops is simple: NON_JUDGEMENTAL, NON_SHAMEFUL, transparent and supportive! So, we are all here to share our own stories and create a community so we don't feel so alone in this journey of trying to escape, recover or live with a narcissist!
See you soon and stay safe out there!
Raquel Soteldo RP, MA, ABA, Canadian Certified Counselor, PMP
www.soteldotherapy.com