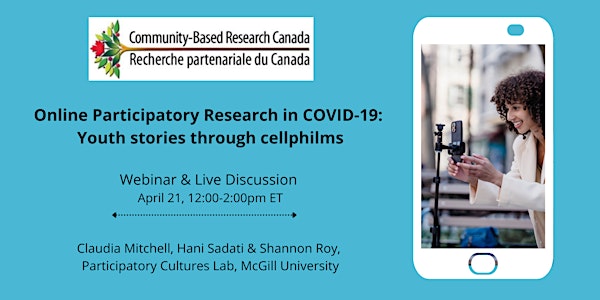 Online Participatory Research in COVID-19: Youth Stories through Cellphilms
Sales Have Ended
Registrations are closed
Thank you for registering! A zoom link will be sent out closer to the event. We look forward to seeing you! The CBRCanada Team
Join a CBRCanada webinar and live discussion to learn about an online video project that looks at the pandemic 'through the eyes of youth'
About this event
Webinar
This webinar (and follow-up live discussion) will reflect on findings from the Canadian Youth Talking about Pandemic Experiences (CYTAPE) project. The participatory research project uses cellphilming (cellphone + filming), a storytelling method where participants create short 1-2 minute films made using their cellphone or any other filming device. The participatory research project helps us view the pandemic 'through the eyes of youth'.
Presenters will share findings of this in-progress research , including opportunities and challenges of conducting participatory visual methods with young people online. The presentation will conclude with a Q and A, and be recorded.
Live Discussion
Following the presentation, CBRCanada will facilitate a live discussion to explore implications for practice. Breakout groups will be facilitated by webinar presenters. The event will conclude with a large group report-back dialogue. The live discussion will not be recorded. CBRCanada will share an infographic highlighting key discussion themes following the event.
Presenters
• Claudia Mitchell, Founder, Participatory Cultures Lab & Distinguished James McGill Professor, Faculty of Education, McGill University
• Hani Sadati, Postdoctoral Researcher, Participatory Cultures Lab, Faculty of Education, McGill University
• Shannon Roy PhD Student, Participatory Cultures Lab ,Faculty of Education, McGill University
This project is housed at the Participatory Cultures lab. This CBRCanada webinar and live discussion is the final part of our 8-part series: Community-Based Research & COVID-19: Addressing Widening Inequities and Amplifying Community-based Visions for Change.
This event will take place in Zoom meeting formatt. A zoom link* will be sent out by email prior to the event via eventbrite. If you do not receive the link, access will also be available on the eventbrite platform. Use the email you registered with to login. For questions, please email sarah.s@communitybasedresearch.ca in advance of the event.
We hope to see you there!
The CBRCanada Team
Bios:
Claudia Mitchell is a Fellow of the Royal Society of Canada, a Distinguished James McGill Professor in the Department of Integrated Studies, Faculty of Education, McGill University, Montreal, Canada and an Honorary Professor in the School of Education at the University of KwaZulu-Natal in Durban South Africa. She is the founder of the Participatory Cultures Lab, a CFI-funded unit focusing on participatory research for social change. She is also the co-founder and editor-in-chief of the award-winning journal Girlhood Studies: An Interdisciplinary Journal and its related book series, Transnational Girlhoods. She has published extensively in the area of visual methods and arts-based research, teacher education, gender and gender-based violence, and youth studies. Her award-winning research spans various regions of the world including Sub-Saharan Africa and South East Asia and work with Indigenous youth in Canada.
Hani Sadati is a Postdoctoral Researcher at McGill University's Faculty of Education, where he received his Ph.D. degree as well. The project he is currently involved in looks at the Canadian youth experience during the pandemic. His FRQSC and IRDC-funded doctoral project focused on the participatory development of a game to address sexual and gender-based violence in Ethiopian Agriculture colleges. This project led to the development of the Mela serious game, which was awarded the Bronze medal at the 2021 Serious Play Conference. Hani's background is in Social Science (BA) and Women Studies (MA), and his research interests include game-based learning, gender studies, and participatory methodology. Hani is also the co-founder and coordinator of the Games and Gamification for Human Development & Well-being (GHDW) Working Group of the McGill Institute of Human Development and Well-being.
Shannon Roy has over 13 years of experience as a professional educator, having taught a range of students from elementary to adult. As a photographer, creative writer, and painter, she has a keen interest and dedication to the arts and is active in her advocacy for strong arts programs in schools. Shannon is in the first year of her Ph.D. in the Department of Integrated Studies in Education at McGill University and is interested in how art-based research can be used as a catalyst to access educators' and students' stories. She is passionate about the possibilities within art-based research, particularly visual methods and creative writing.
*This event is for CBRCanada members only. If you are employed, studying, or affiliated with any CBRCanada member institution/organization, you are already considered a member. If you are unsure if your institution is covered, learn more here. Individuals whose institution is not on this list are welcome to register as an an individual member. We value community participation and have a free membership option for registered community mobilizers.